Sleeps 6 (max)  $195.00 – $355.00     …pet friendly…

3 Bedrooms – Sleeps 6


2 . 5 Bathrooms

Two Full kitchens and Bar


Private Dock w/ On site Boat Rentals
Rates
(All prices are cost per night unless otherwise stated)
January:  Jan 1 – Jan 31, 2017 – 1 night min stay…$195
February:   Feb 1 – Feb 28, 2017 – 1 night min stay…$195
Early March:   Mar 1 – Mar 16, 2017 – 3 night min stay…$195
Late March:   Mar 17 – Mar 31, 2017 – 3 night min stay… $205
April:   Apr 1 – Apr 14, 2017 – 4 night min stay… $215
Late April:   Apr 15 – Apr 30, 2017 – 4 night min stay… $225
May:   May 1 – May 24, 2017 – 4 night min stay… $229
Memorial Day Weekend:   May 25 – May 28, 2017 – 4 night min stay… $350
Early Summer:   May 29, 2017 – June 2, 2017 – 5 night min stay… $250
June:   Jun 1 – Jun 30, 2017 – 4 night min stay… $355
July 4th Holiday:   Jul 1 – Jul 7, 2017 – 7 night min stay… $2650 ( weekly)
July:  Saturday to Saturday – 7 night min stay… $2300 (weekly)
Late August:   Aug 12 – Aug 31, 2017 – 4 night min stay… $295
Labor Day Weekend:   Sep 1 – Sep 3, 2017 – 3 night min stay… $350
September:   Sep 4 – Sep 30, 2017 – 4 night min stay… $240
October:   Oct 1 – Oct 31, 2017 – 4 night min stay… $210
November:   Nov 1 – Nov 21, 2017 – 2 night min stay… $195
Thanksgiving:   Nov 22 – Nov 25, 2017 – 4 night min stay… $205
December:   Dec 1 – Dec 21, 2017 – 1 night min stay… $195
Christmas:   Dec 22 – Dec 25, 2017 – 4 night min stay… $205
Availability
( Dates in red are currently reserved )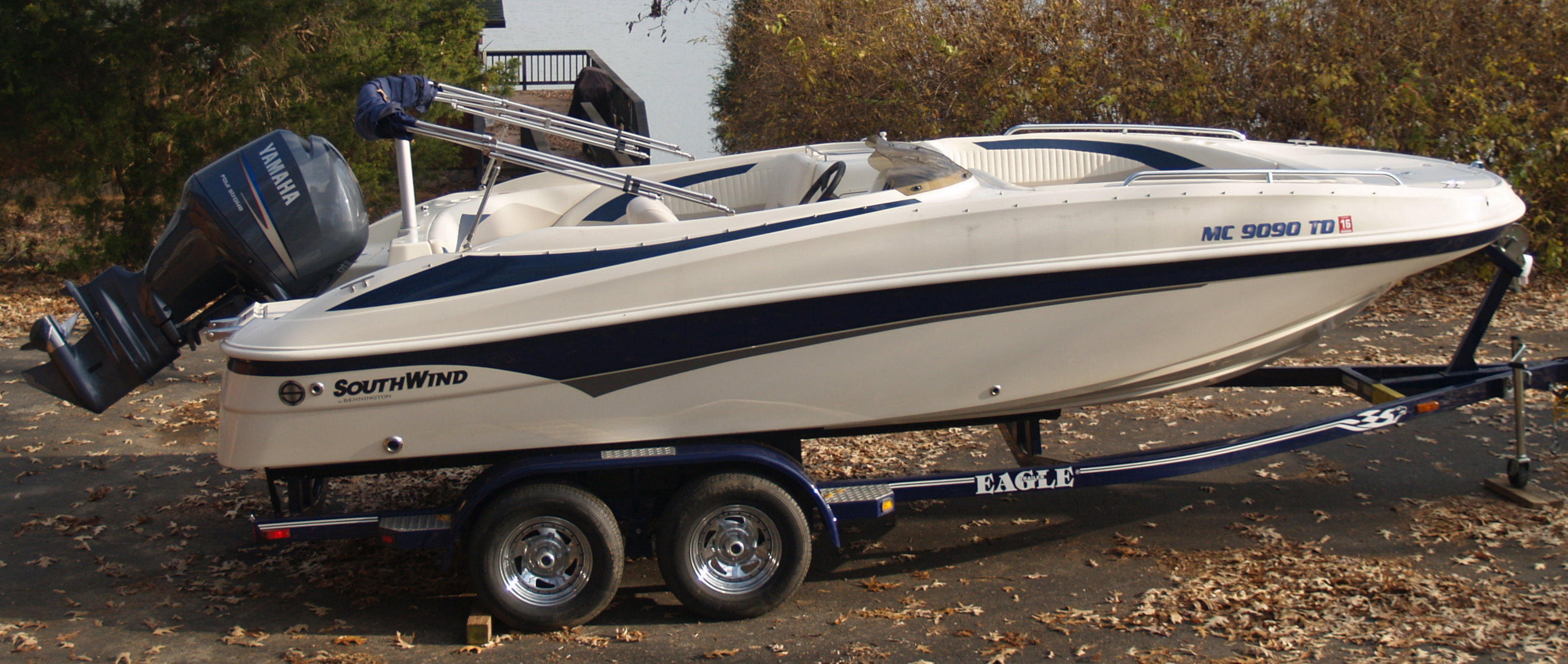 Setting a Higher Standard…
In an ongoing effort to respond to customers' requests for our fleet,  we've added a sleek,  21 ft. Bennington Southwind Deck Boat.  It's appointed with every detail to meet the needs of those who prefer luxury and style as they just relax and cruise in style.  Please click on BOAT RENTALS on menu for special rates, details and additional photos of our fleet.
All our boats are delivered right to your Private Covered Dock, only 70 ft. away.
KENTUCKY LAKE VACATION RENTALS   270-978-0624
The Ideal Vacation Spot…
With a total renovation to this 2450 square foot home complete,  it becomes the model for the optimum vacation experience anywhere on Kentucky Lake.  Conveniently located only 13 miles from Murray State University.
Having the closest proximity and most gentle slope to the water of any rental home in the vicinity are not the only reasons it delivers such an unrivaled experience on the Lake.  Outstanding features and an extraordinary location are factors contributing to its distinctive standing.  Unlike the resorts and rental homes in crowded coves with heavy boat traffic to which so many visitors to Kentucky Lake have grown accustomed,  here is a vast,  wide open,  peaceful vista across the main lake of the Land Between the Lakes.
The façade of this ideally positioned,  traditional lake home is a perfect melding of Craftsman Style with Cedar Shake.  Before even stepping inside one first senses its richness.  The unparalleled view of the lake and warmth of the natural red cedar says welcome.  The exterior accents of stained glass windows and lighting with complementing colors confirm the quality that signals the start of a very special time away for family and friends is about to begin
CAREFREE WATERFRONT LIVING – was the objective when the home's deluxe,  aluminum, covered dock was selected:
The Fishing Possibilities at the dock are exceptional with a great population of bluegill,  bass,  crappie  and catfish.
As for the Access – Here there is no steep slope or long trek to your boat.  Being only seventy feet away,  step out the door and be on the dock in a minute or less.
Coverage and Quality are Redefined – Equipped with an attractive and highly functional hip roof,  superior protection from the elements is ensured.  It has one 24 foot covered slip.  Not only is the aluminum decking non-slip,  but it is splinter free. There is electricity for charging trolling motors as well as water and a fish cleaning table for your daily catch.
Then,  there is the Relaxation & Recreation – If after a day out you return with the sense that exploring and playing on the lake can be both fun and hard work,  here is the place to reflect on the day you have had and contemplate tomorrow's plans.  Having a 12×28 swim platform complete with a retractable ladder makes this the spot to share a fun and rejuvenating break lounging,  sunbathing or swimming.
A BOAT RENTAL ON THE PROPERTY:  Is one more convenience,  and can add hours to vacation time on Kentucky Lake.  There is no drive to and from a marina to collect and return a boat.  For a rental over multiple days how great it is to have the driving completely eliminated.  Imagine instead the pleasure of a sunrise breakfast ending seamlessly with a stroll across the lawn to board the boat that awaits you at your private dock.  Effortlessly,  straight from the comfort of your home, a day on the lake begins…
Come see inside by clicking TAKE THE TOUR above.
KENTUCKY LAKE VACATION RENTALS      270-978-0624
House
Accommodation Type –   Kentucky Lake Vacation Rentals
Location –   Lakefront with Your Own Private Covered Dock
Meals –   Guests Provide Their Own Meals
Minimum Age Limit For Renters –   All renters must be at least 25 years of age unless accompanied by a parent.
Children Welcome –   A huge selection of books and games for children and adolescents.
Non Smoking Only
Pets Considered –   Pets are accepted on a case by case basis with the pre-approval of the owner. When inquiring please indicate the breed and weight. There is a pet fee.
Bedrooms…
3 Bedrooms, Sleeps 6 (max) , Beds for 6
Bedroom 1 –  Lakefront with a private sliding door onto deck – 1 queen – private half bath.
Bedroom 2 –  Lakefront with a private sliding door onto the stone patio – 1 queen.
Bedroom 3 –  Lakeview room with two full beds –  2 double
All beds have Swedish foam pillow-top mattresses.
Bathrooms... 
2 Bathrooms,  1 Half Bathroom
Bathroom 1 –  Blue tile bathroom with Artisan stained glass window –  toilet, shower. Eight foot shower stall with a built-in bench & body jets. This upstairs bathroom works particularly well for those with limited mobility.
Bathroom 2 –  Downstairs full bathroom –  toilet, combination tub/shower – terracotta tile floor.
Bathroom 3 –  Private half-bath – toilet – located in the upper lakefront queen bedroom with toilet & sink.
General…
Air Conditioning –  Central Heat/AC
Clothes Dryer –  Front Loading
Fireplace –  On the upper level in the dining area with raised hearth. (Duraflame logs only)
Hair Dryer
Heating –  Central Heat/AC

Internet –  Free Wi-Fi
Iron & Board
Linens Provided –  Egyptian Cotton Sheets.
Living Room –  Another wonderful lake view!
Parking –  Easily accessed, spacious paved drive for several cars.
Parking For RV/Boat/Trailers –  Ample Parking for trailers.
Towels Provided –  Plush Bath Towels
Washing Machine –  Front Loading
Wood Fireplace –  Duraflame logs only.
Wood Stove –  In the primary living space. Duraflame logs only.
Kitchen…
There are two full kitchens in this home. One upstairs and there is also an equally equipped full kitchen in the downstairs bar area. With two ideal options provided for festive, warm, gatherings, indulging in a celebration is perfectly convenient regardless of on which level you choose to gather together. You will always be prepared and ready to spill out onto the upper deck or the stone patio below. In the bar, in additon to all of the amenties of the full kithchen, there is a 42 bottle wine cooler.
Coffee Maker
Cooking Utensils – Coffee Maker with filters provided, Toaster, Blender, Spice Rack with 20 options, Extensive collection of utensils and kitchen supplies.
Dishes & Utensils
Dishwasher – There are 2, one on each level.
Ice Maker
Microwave – (2) One on each level.
Stove/Oven – (2) One on each level.
Toaster
Pantry Items

Outside…
Balcony –  Deck makes you think of being on a Cruise Ship
Boats –  Several clean, well equipped boat rentals for every type of boater
Deck/Patio –  The deck is equipped with dining tables and comfy chaises in sun or shade. It is perfect spot for morning coffee, meals, relaxing with a good book, taking in the sunrise, or watching the family swim and fish from the dock. The patio below has seating and the same view!
Golf –  Award Winning Miller Memorial Golf Course is 12 miles
Kayak/Canoe –  16ft. 2 man kayak available for rent.
Lawn/Garden –  4 acre property with shaded areas and lush grass for you to enjoy.
Outdoor Grill –  Stainless Gas Grill  / Propane provided
KENTUCKY LAKE VACATION RENTALS    270-978-0624
THE MAIN DECK IS ONE OF THE OUTDOOR SPOTS TO RELAX.  From the branch of a surrounding tree a Bald Eagle may preside over a meal or casual break,  he's the perfect compliment to the awing view.  The options for stretching out in the sun or shade are right here – the deck is outfitted with comfortable chaises and dining tables.  If the guests feel like relaxing even closer to the water,  this home's covered dock has a large swim platform perfect for taking in the view while soaking in some sun – It has an area for sitting in the shade, too.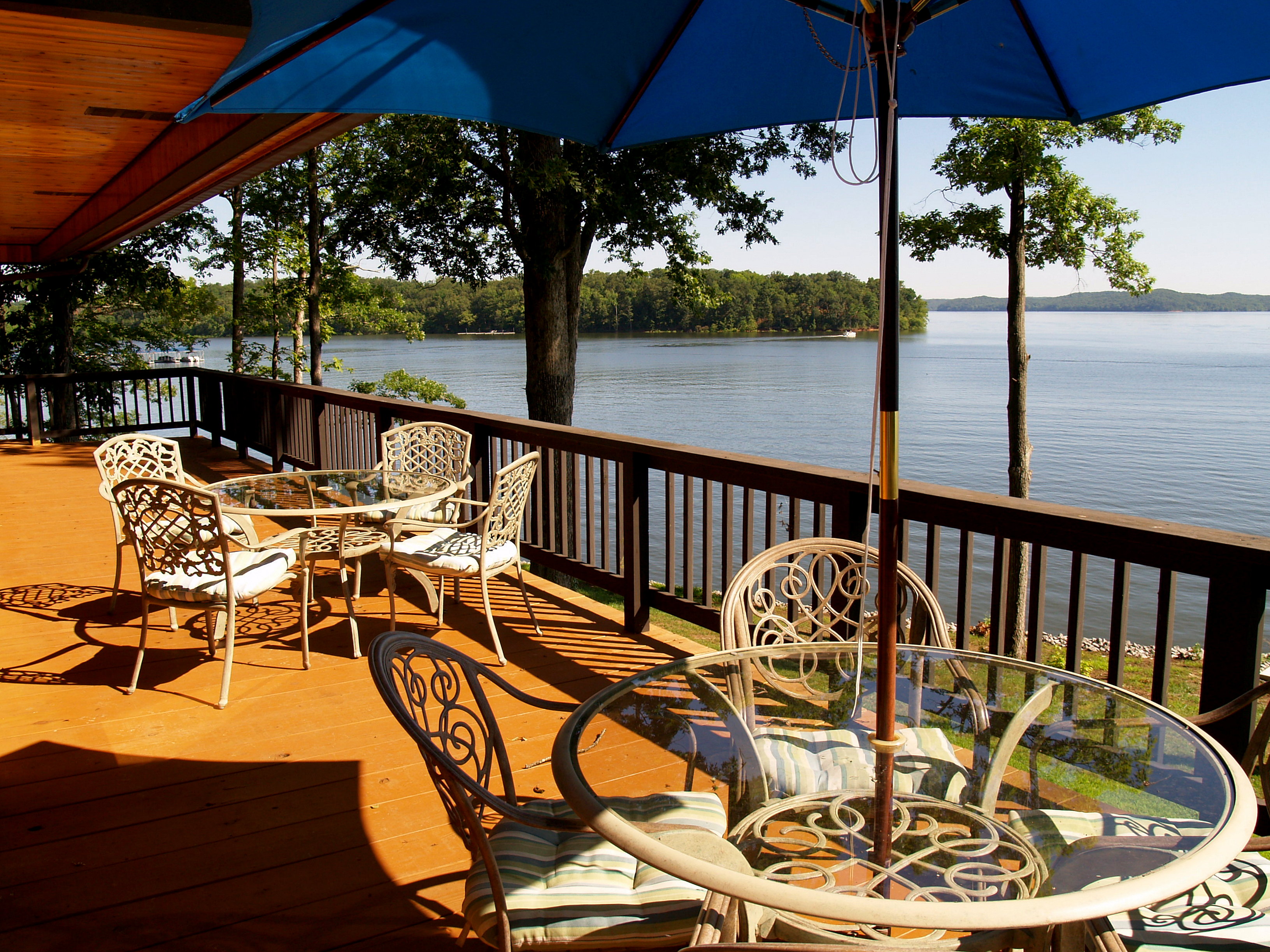 Once inside it takes just a glance out of any of the numerous windows and doors for guests to know they have the ultimate vantage point.  From the main deck,  hand laid stone patio,  and rooms on both levels,  visitors find their attention drawn to the pristine blue water.  It is so close that when rising in the morning,  dining throughout the day,  or just relaxing, one is struck by the familiarity of taking in the view from the balcony of a cruise ship.  In reality this view is from a homey three bedroom,  two and a half bath escape.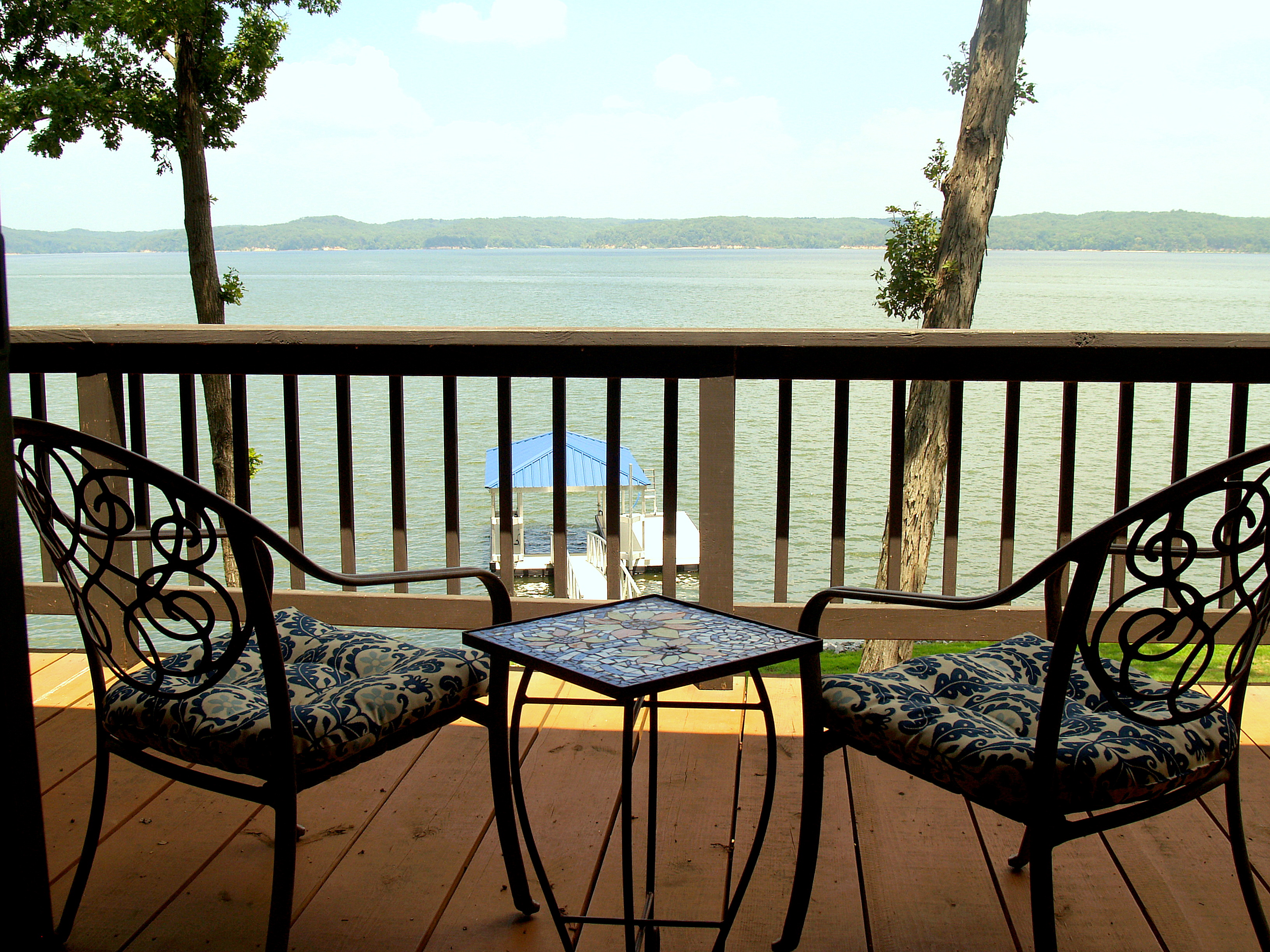 UPSTAIRS IS ONE OF THE HOME'S TWO KITCHENS.  Spacious,  well equipped with a walk-in pantry,  stainless appliances,  granite countertops and an Italian tile floor.  The kitchen joins the dining room with hardwood floors and a unique raised stone fireplace.  The combination makes for a large friendly space where many great meals are enjoyed surrounded by walls of windows facing the lake.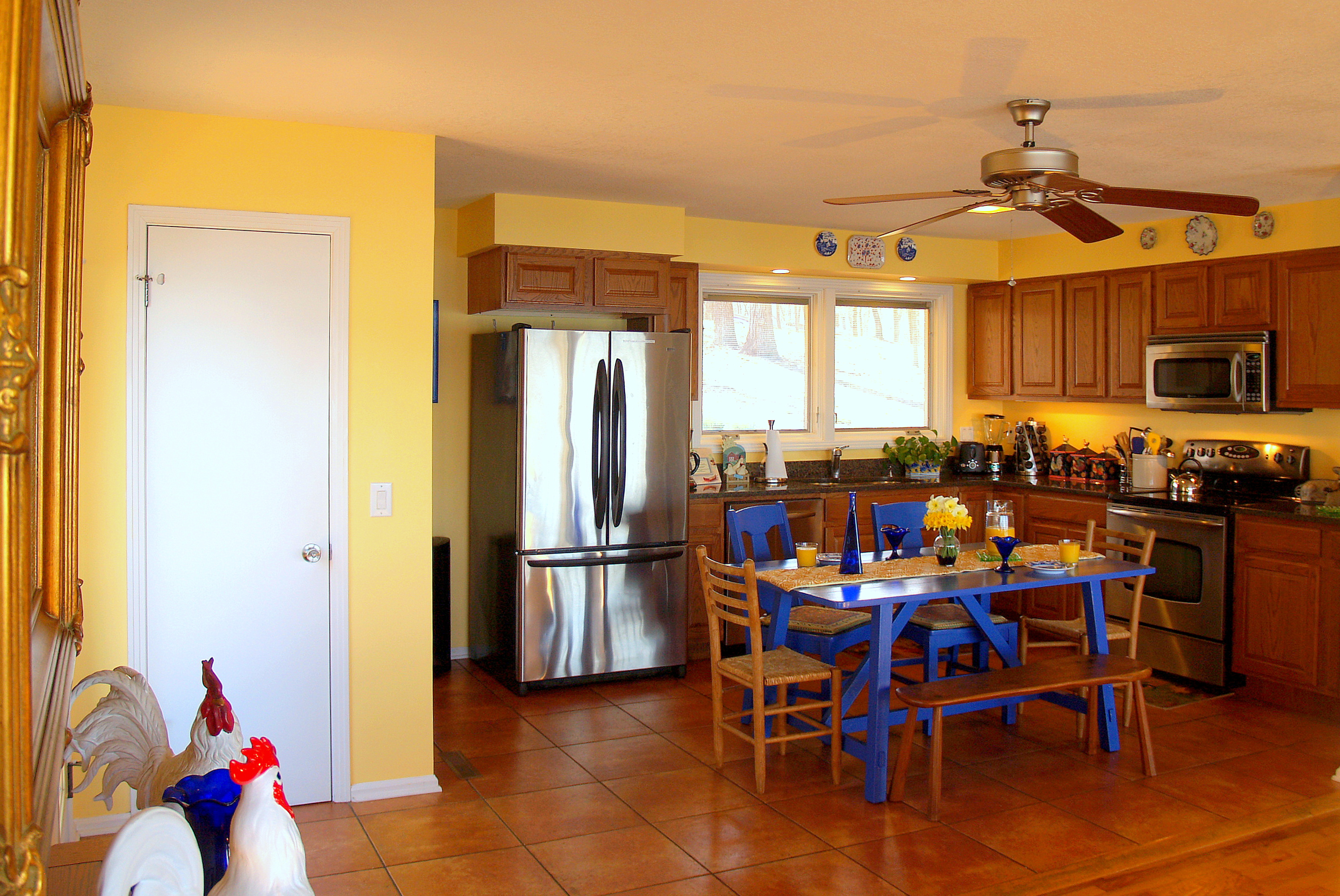 .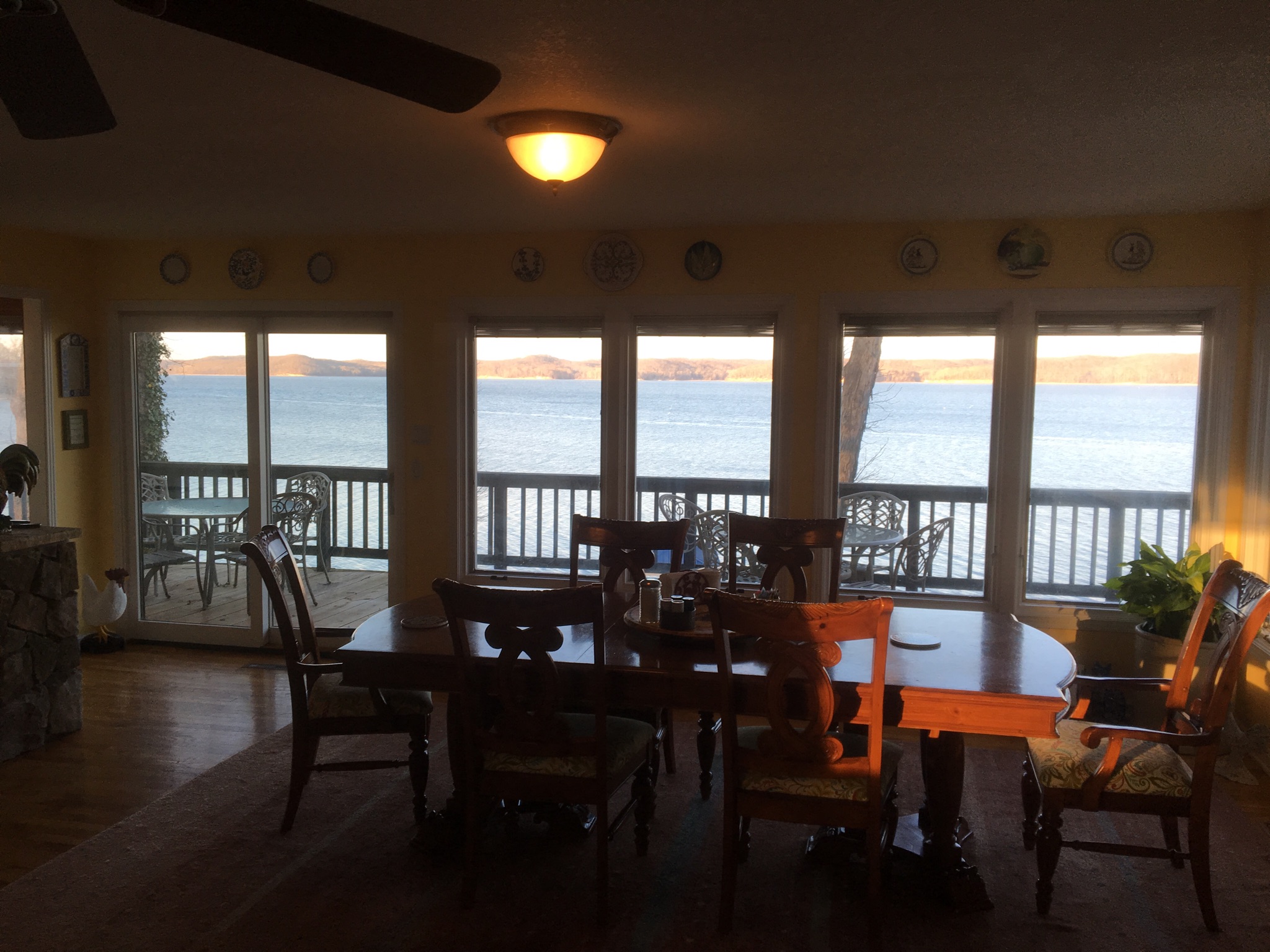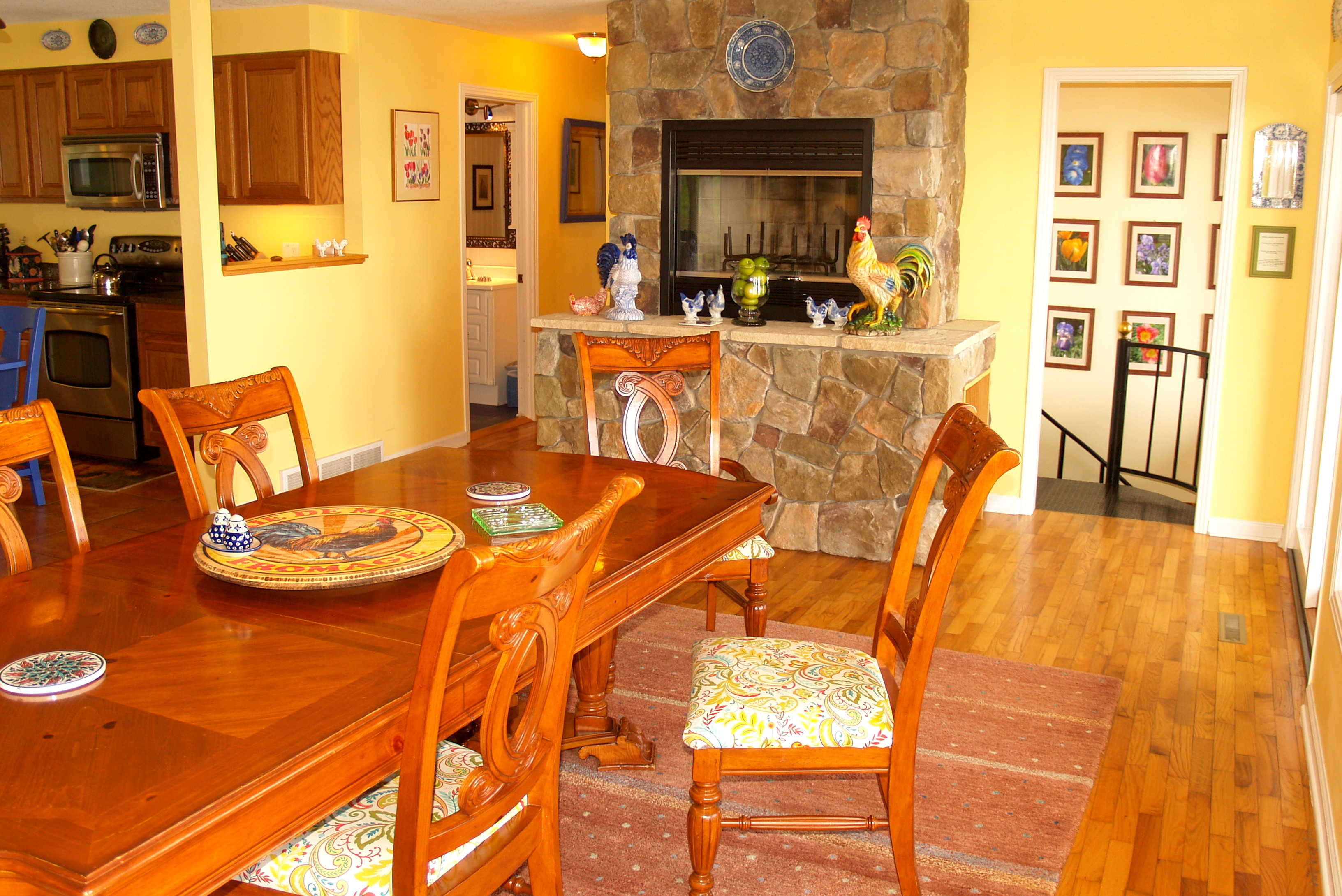 Upstairs are two bedrooms with lake views.  One with two full beds and a Guest Suite with a queen bed,  private half bath and its own large sliding glass door with direct access to the deck and the soothing lake view.  The primary bathroom on this level is striking with an eight-foot,  modern,  custom designed shower stall,  entirely clad in marine blue tile.  It has a built in bench,   shower heads at both ends,  body jets,  and a large,  stunning,   stained glass window created by a local artisan.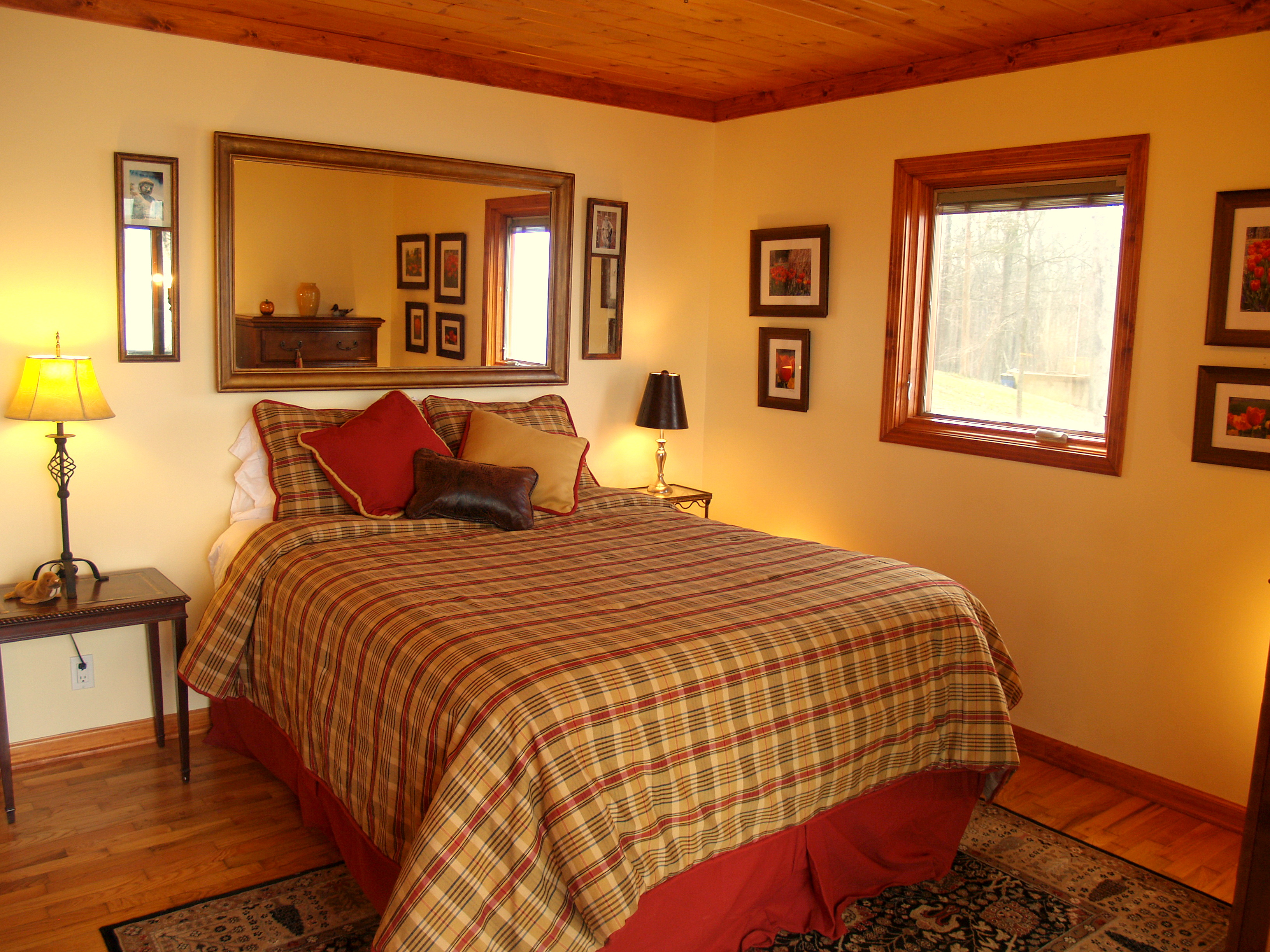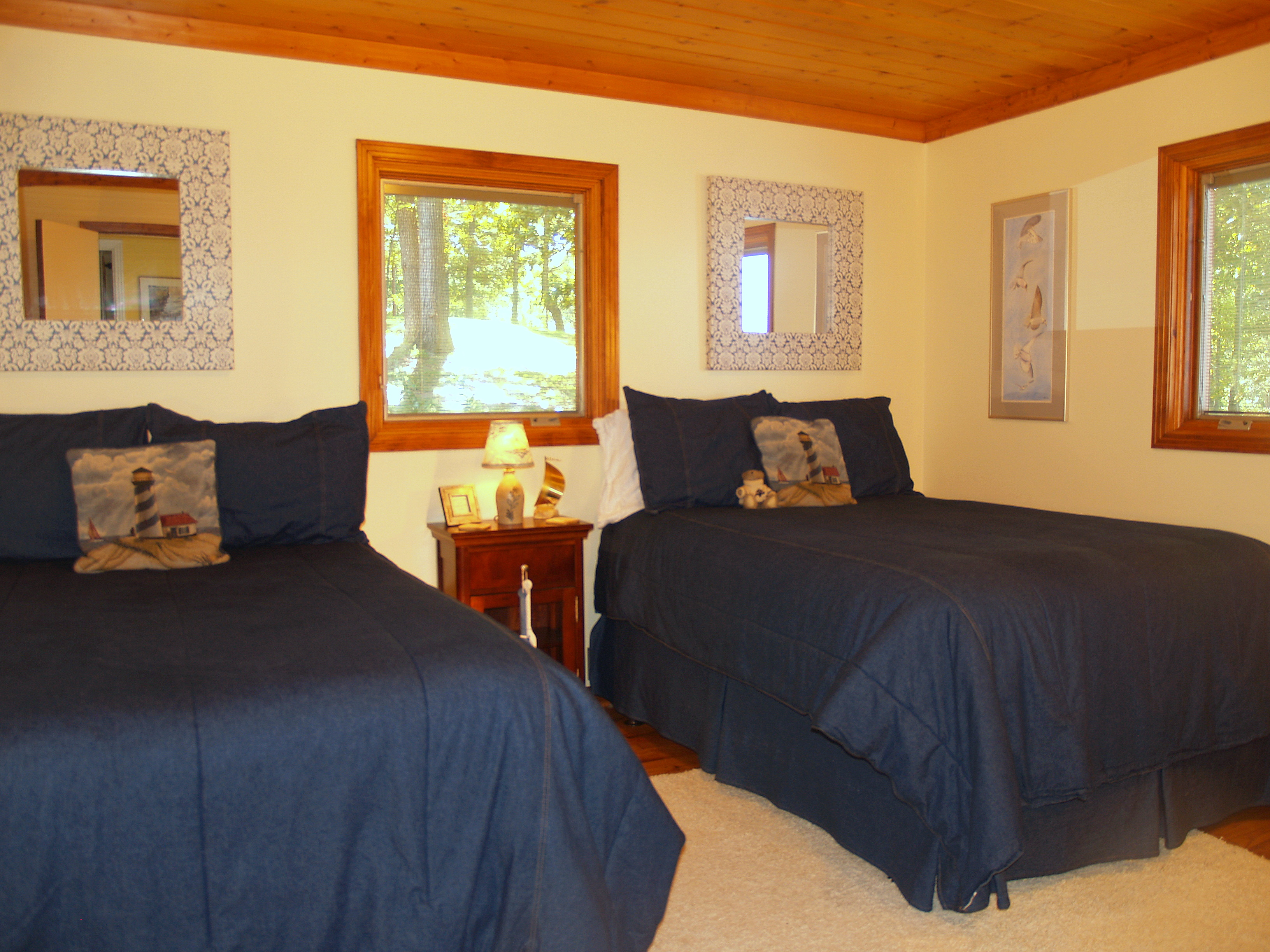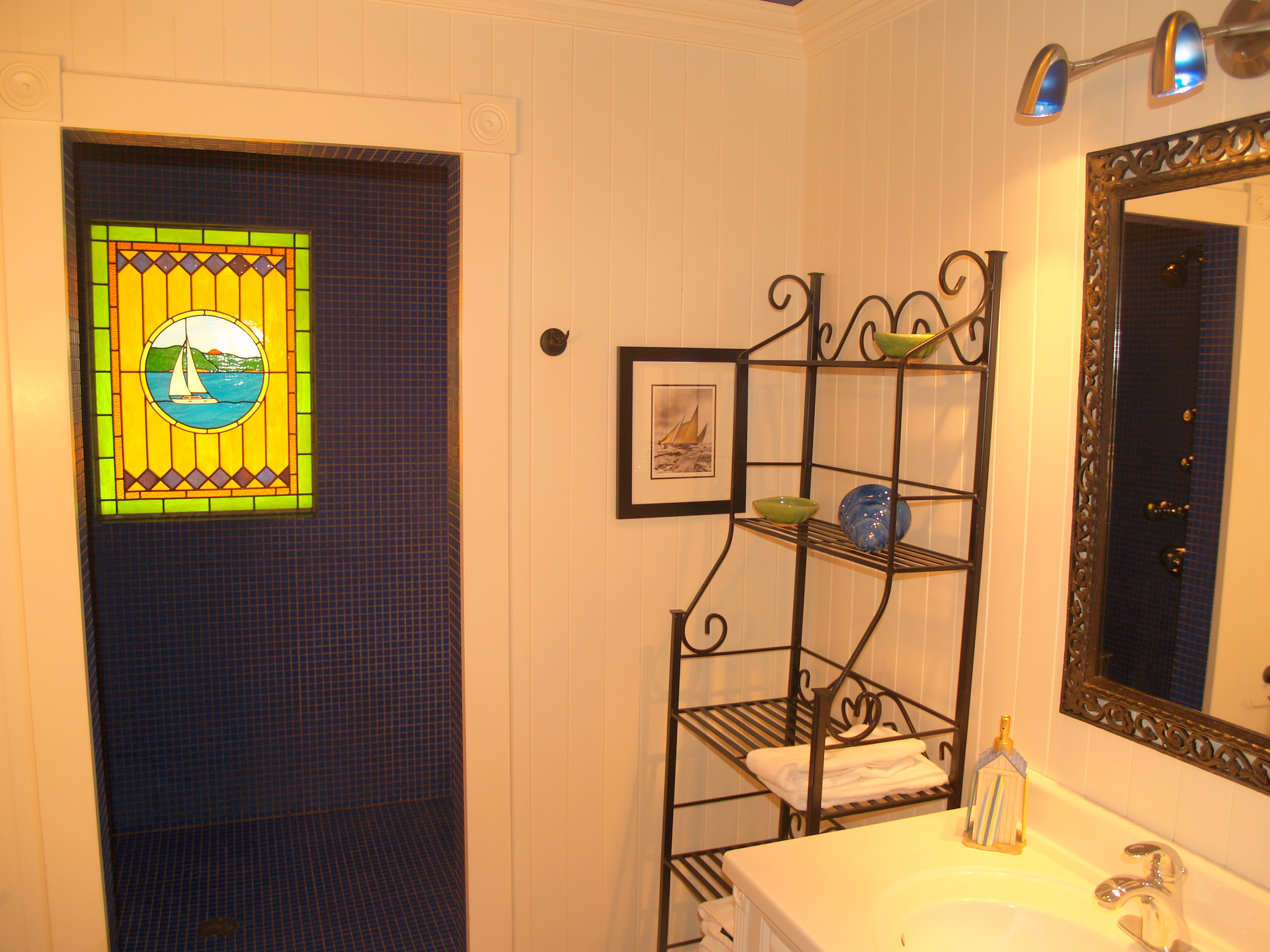 The downstairs is reached by a spiral staircase. Numerous windows ensures the lake continues to be the focus. The bedroom here features sliding glass doors with a direct prospect of the lake. Its occupants may choose to step out onto the patio sitting area or remain in the comfort of their bed to find themselves inspired by the captivating morning sunrise, promising the perfect start to the day.  One wall with interior arts and crafts style stained glass windows adds a dramatic architectural detail.  This accommodation has access to a walk-in closet with a front loading washer and dryer, as well as a full bath.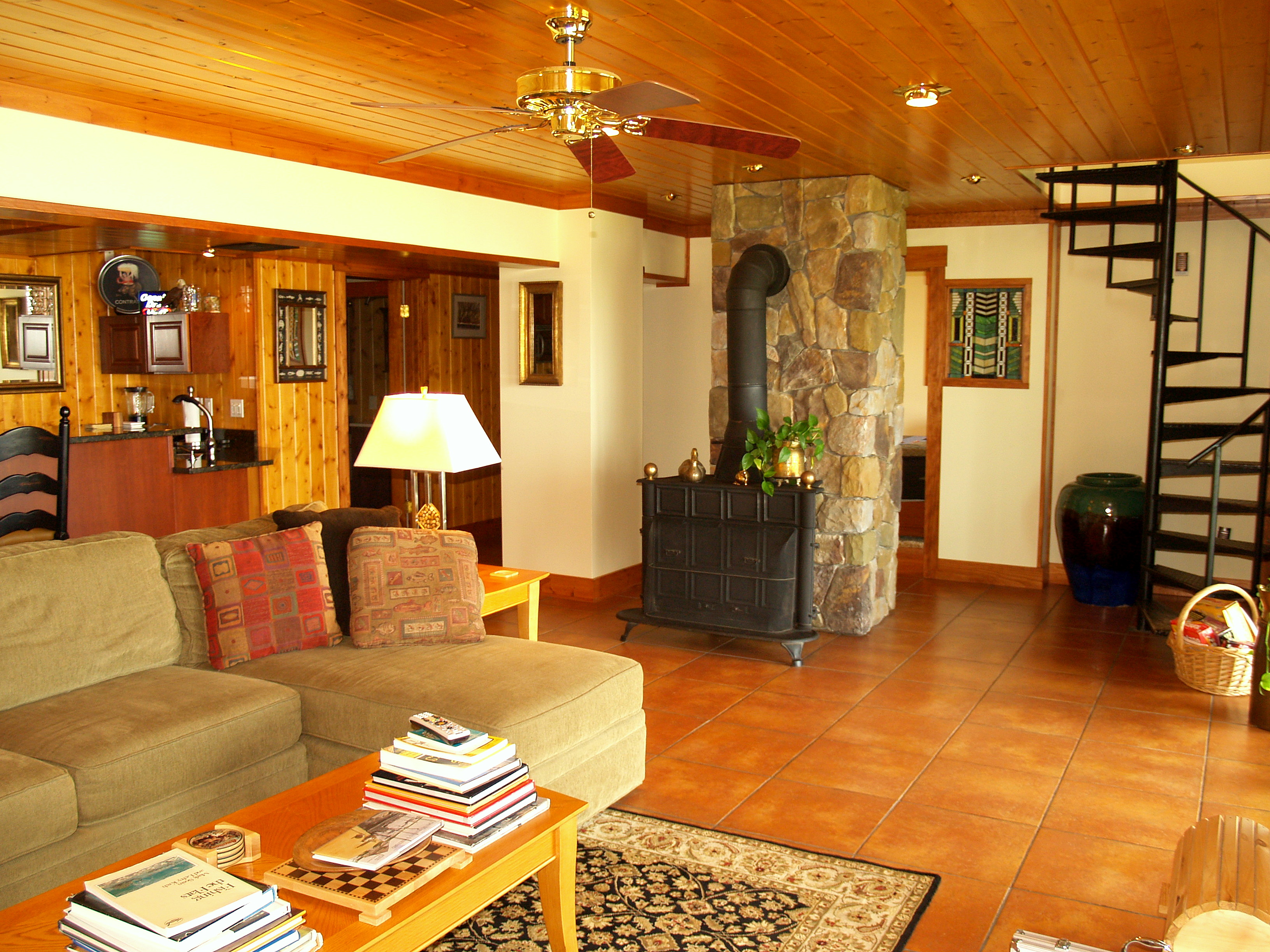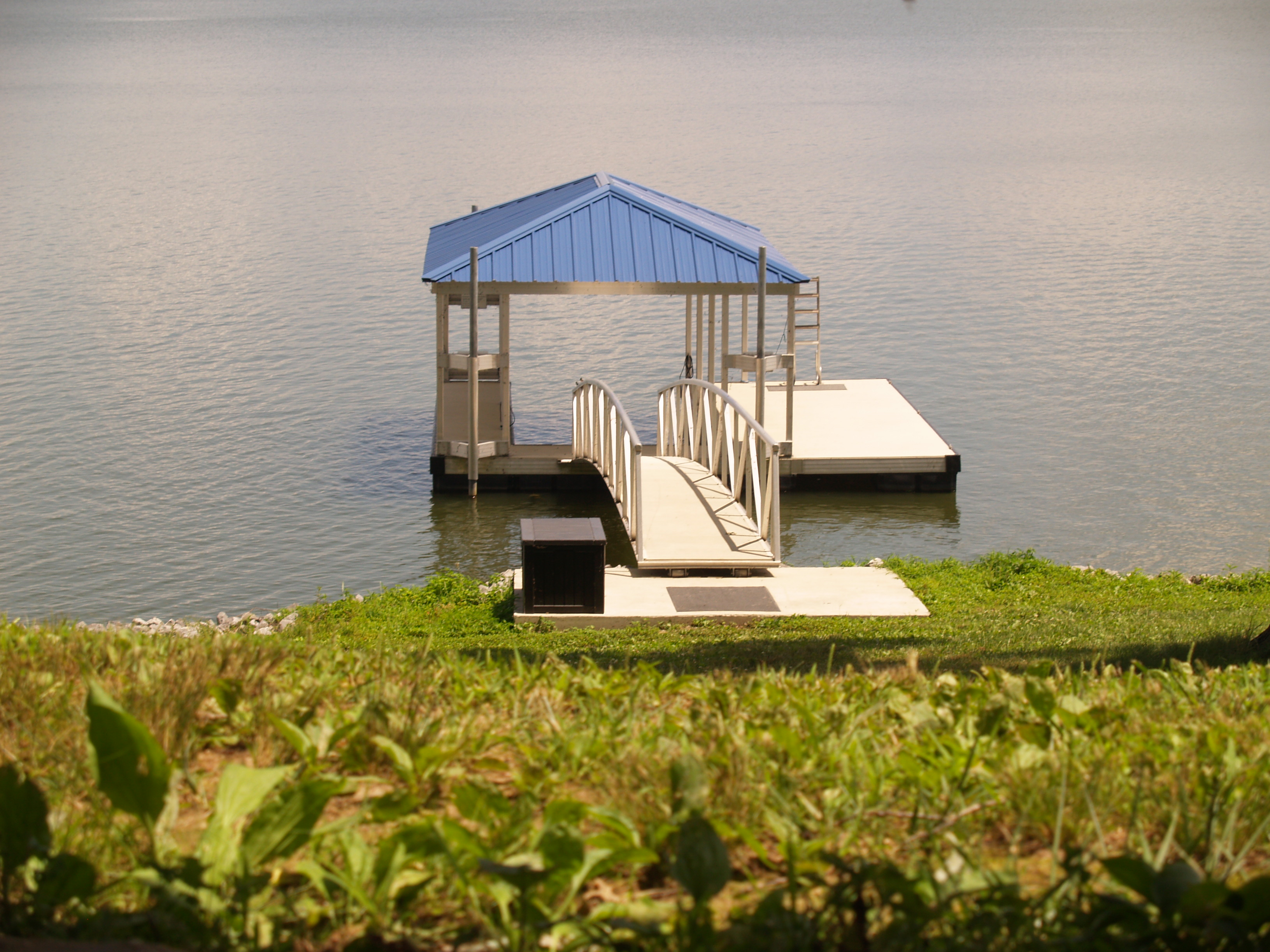 THE MAIN LIVING SPACE LOOKS OUT ON THE WATER – the smallest of needs have been considered and met here.  An eight-foot granite bar and an additional full kitchen outfitted with cherry-wood cabinets and stainless appliances provide all of the tools needed to entertain on the lower level with ease – it is the backdrop to the living room.  Furnished with a great arrangement of comfortable seating – here is an area ideal for a special reunion that will remain etched in the minds of all who attend.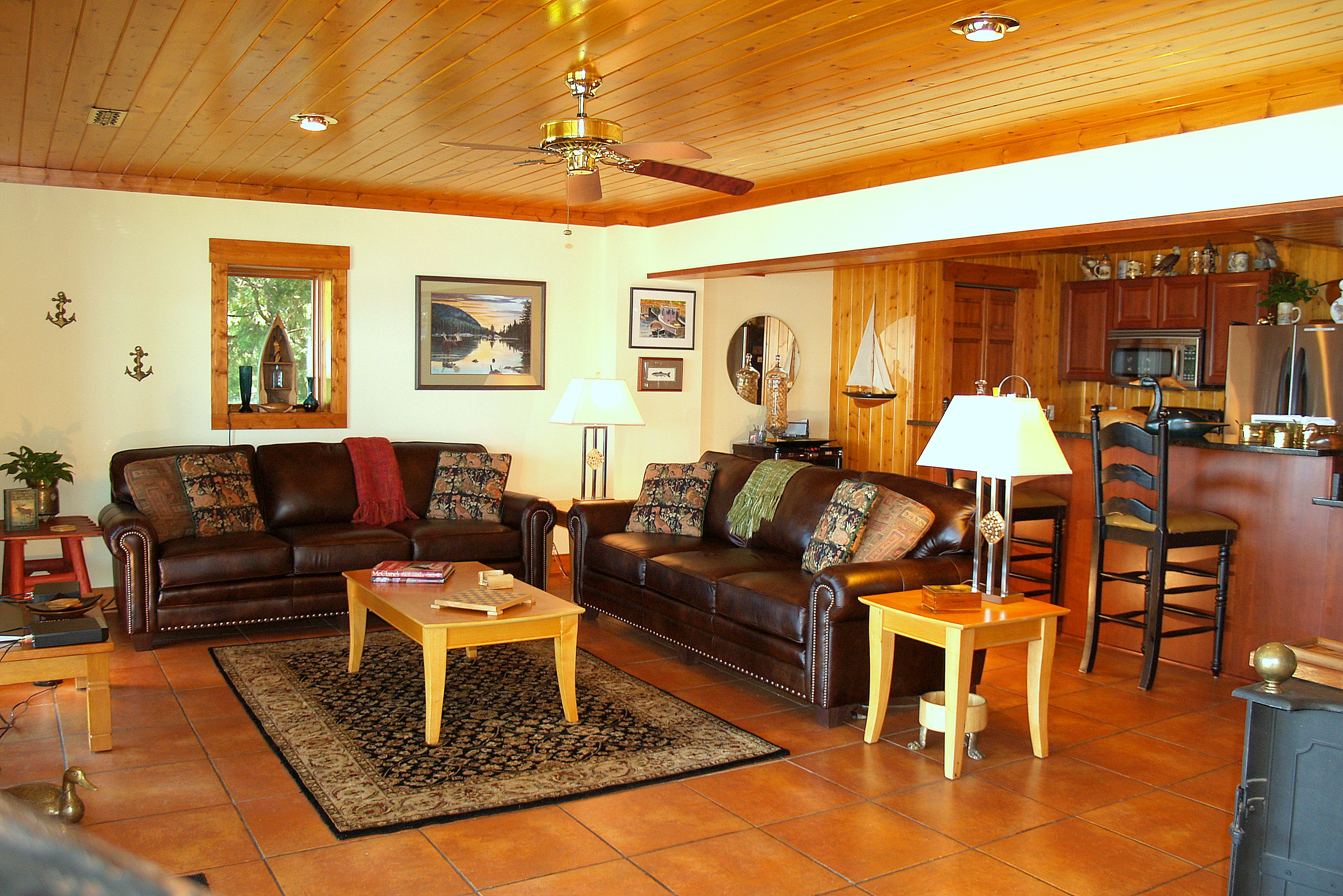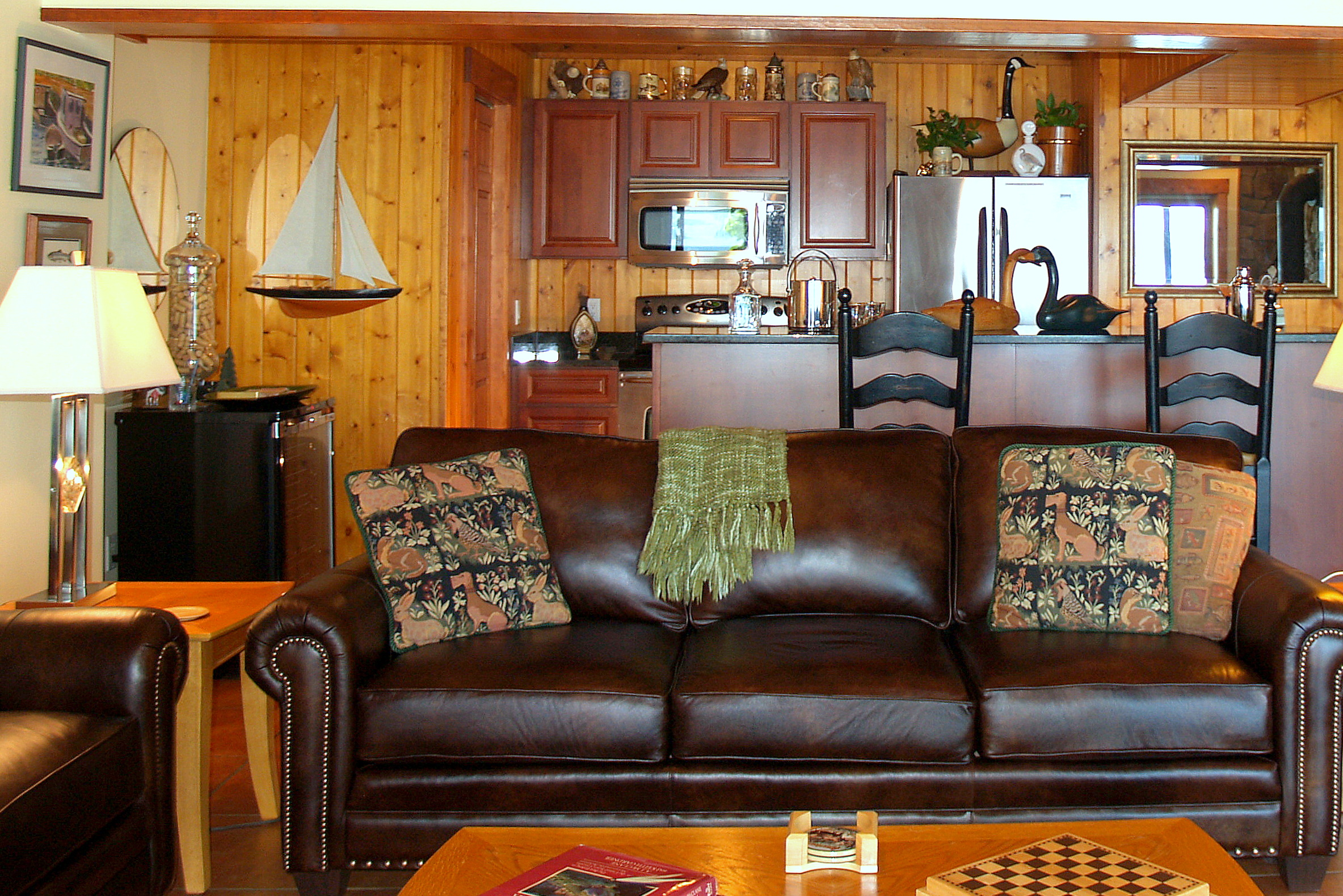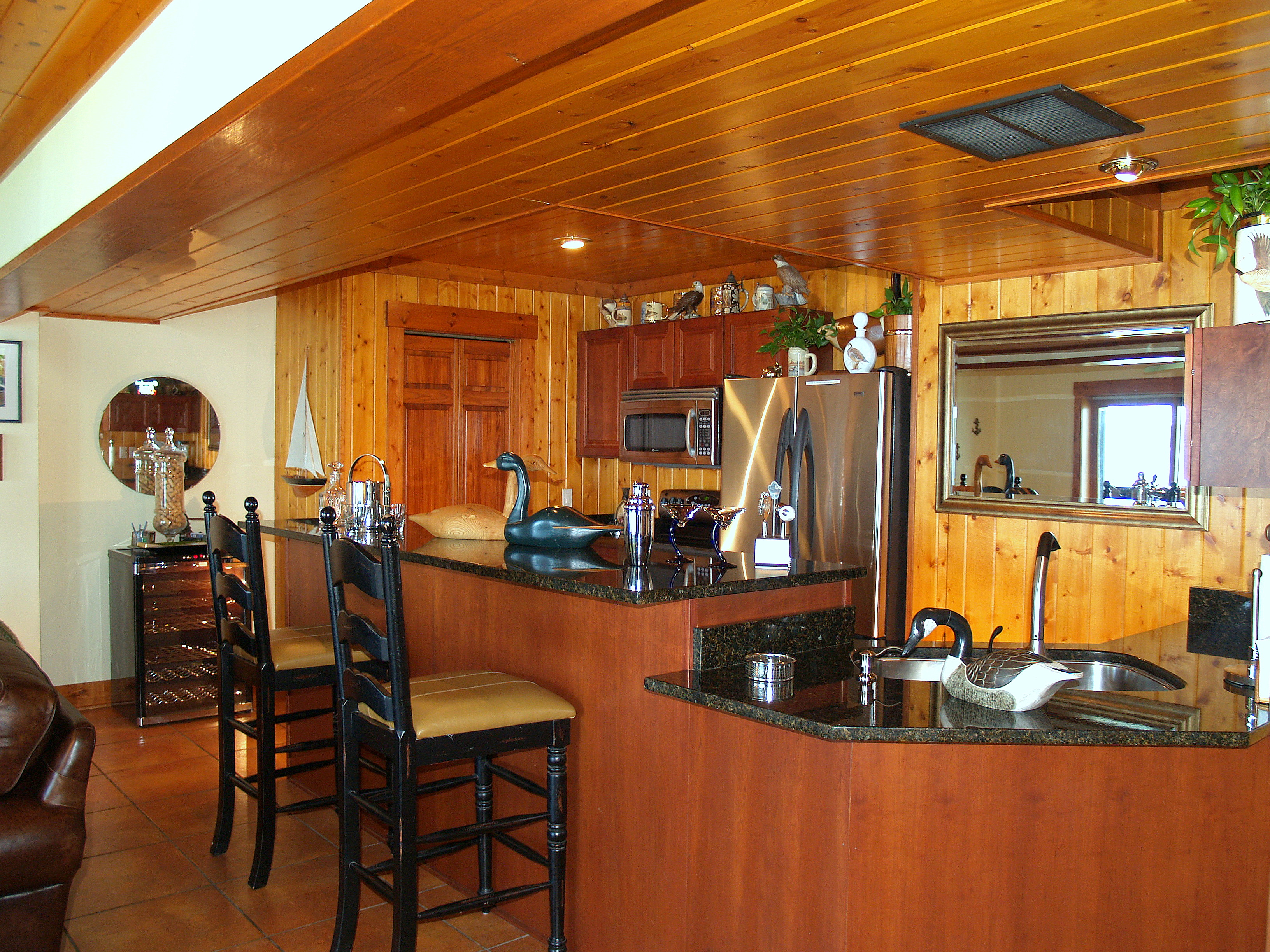 KENTUCKY LAKE VACATION RENTALS   270-978-0624
Launching a New Level of Adventure…
Our private fleet has been enhanced with this beautiful,  21ft. Bennington Southwind Deck Boat. It's appointed with every detail to meet the needs of those who prefer luxury and style as they just relax and cruise in total comfort. It features ample,  comfortable seating,  depth finder,  carpeting, sink,  Bimini top,  premium stereo,  built in cooler,  swim ladder and is powered by a whisper quiet 150HP Yamaha 4-stroke.
"FOR FISHING" – it depends on which you prefer…  Choose from fully-equipped 21 ft. Fishing / Ski Boat or War Eagle Predator Bass Boat,  each has a 115HP Yamaha 4-stroke.
Our fuel-efficient rental boats are the finest on Kentucky Lake.  They are well  maintained for a trouble free day on the lake.   With comfortable seats,  Bimini tops for shade and the latest in Full Color GPS Mapping and Sonar,  being on the water has never been so affordable. Please click on BOAT RENTALS on menu for special rates,  details and additional photos of our fleet.
All  our boats are delivered with a full tank of fuel right to your Private Covered Dock,  only 70 ft. away.
KENTUCKY LAKE VACATION RENTALS      270-978-0624
A great collection of books on both levels – hundreds by renowned authors, covering a variety of topics with classic titles appealing to all ages, many games, puzzles and poker.
There are great options for walks, biking and running. The property is very close to a beautiful nature trail.
Books –  A great variety of subjects for all ages.
DVD Player –  upstairs in guest suite with 32″ LCD TV (for movie viewing)

Games –  Several standard and different games
Satellite/Cable –  DirectTV with all movie & local channels and XM Radio.
Television –  42″ Flat screen
KENTUCKY LAKE VACATION RENTALS    270-978-0624
Antique Malls
Churches
Cinemas
Festivals
Fishing Tournaments
Health/Beauty Spa
Historic Ft. Donelson Civil War Site
Library
Live Theater
Marina
Murray State University
Museums
National Forest
Patti's 1800 Settlement
Restaurants
Water Parks
Winery Tours

 KENTUCKY LAKE VACATION RENTALS    270-978-0624
Discover all the Treasures of Land Between the Lakes National Recreation Area.
Just a brief 15 minute drive from the property to the main entrance.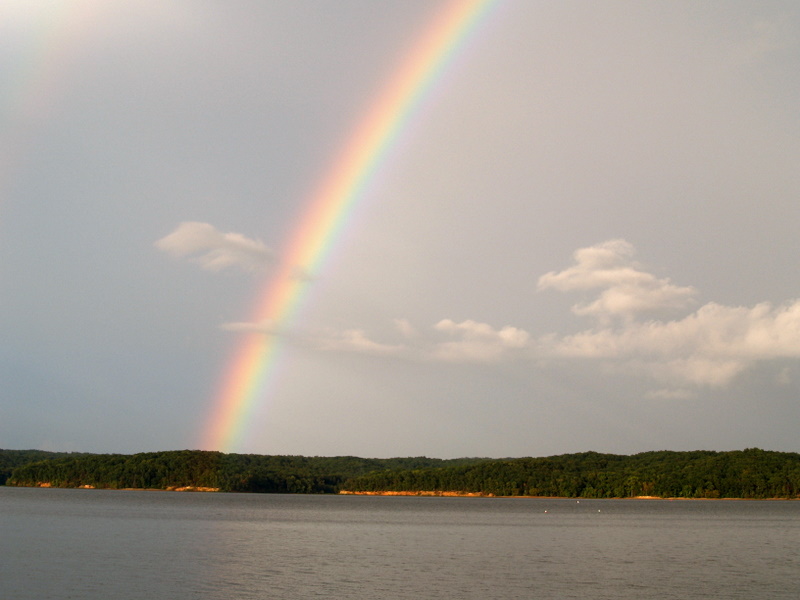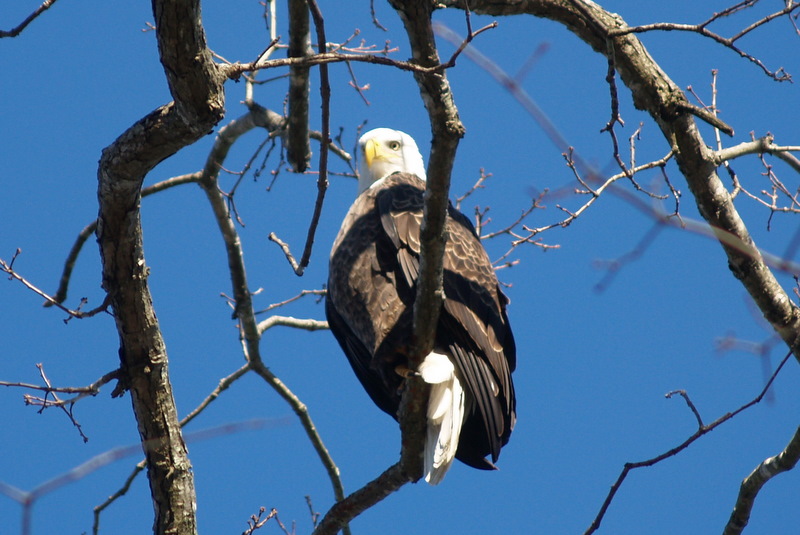 Even closer by water…only 5 minutes.
KENTUCKY LAKE VACATION RENTALS    270-978-0624