Rates
(All prices are cost per night unless otherwise stated)
January:  Jan 1 – Jan 31 – 2 night min stay…$195
February:   Feb 1 – Feb 28 – 2 night min stay…$195
Early March (Spring Fishing)   Mar 1 – Mar 13 – 2 night min stay…$205
Late March (Spring Fishing)    Mar 13 – Mar 31 – 3 night min stay… $215
April  (Spring Fishing)   Apr 1 – Apr 30 – 3 night min stay…  $215
May (Spring Fishing)   May 1 – May 26 – 4 night min stay… $225
NOTE : Sorry, only property rental boats allowed on the premises.
Memorial Day Weekend:   … $350
Early Summer Special:   May 27 – June 3,  – 7 night min stay… $295 except Mem Day
June:   June 3 – June 23 – 4-5 night min stay …$250 
July 4th Holiday:   July 1 – July 8 … $355
Peak Summer : June 17 – August 12
August: – August 13 – Aug 31, 2022… $265

Labor Day Weekend:   … $330

September   Sep 5 – Sep 30,   … $215
October:   Oct 1 – Oct 31,  … $215
November:   All dates except Thanksgiving  – 2 night min stay… $215
Thanksgiving:    – 4 night min stay… $265
December:   All dates except Christmas and New Years  – 3 night min stay… $215
Christmas:     4 night min stay… $240
New Years:    2 night min stay… $240
Please refer to Rates and Availability for additional taxes and fees.
Availability
(Dates in red are reserved)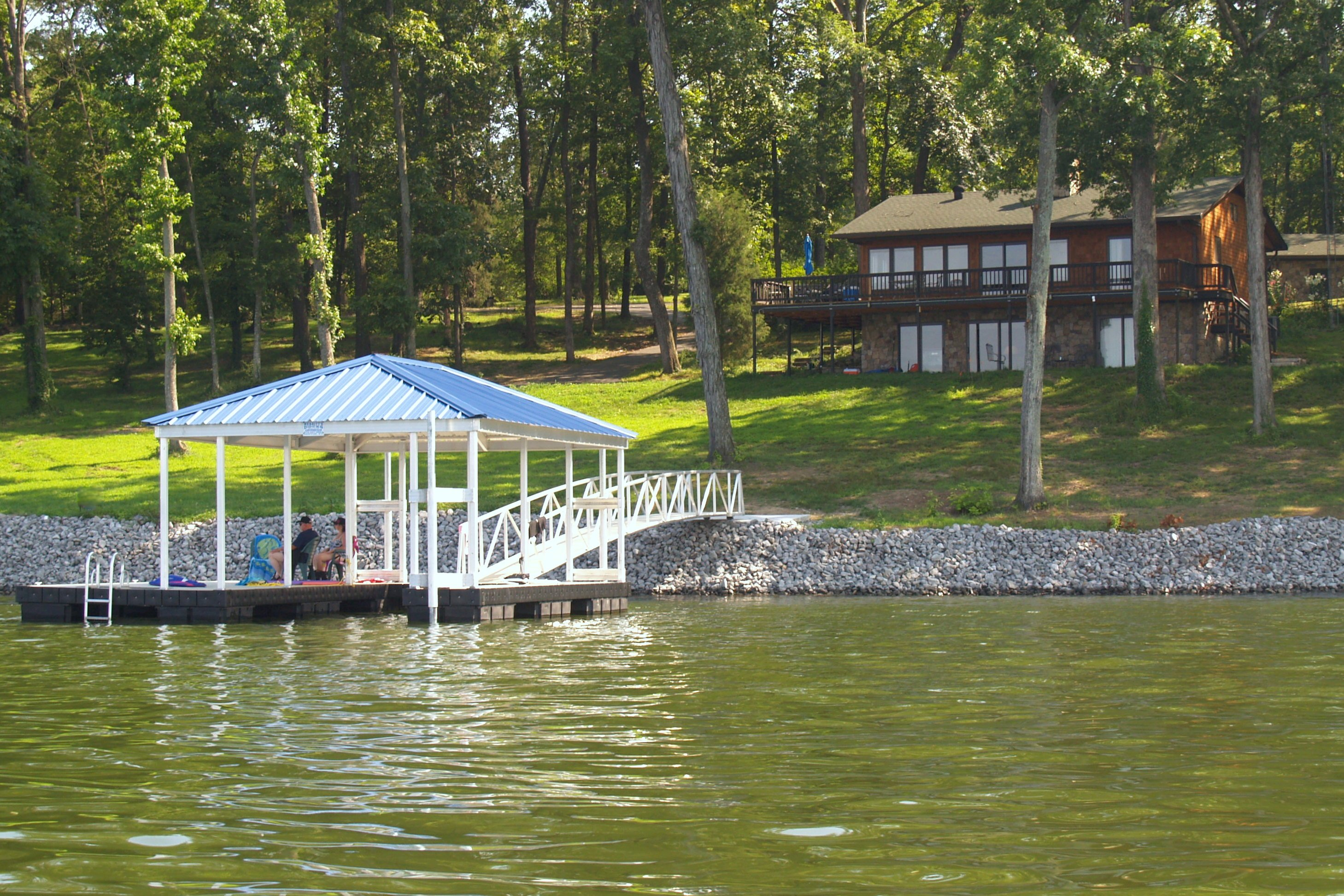 Featuring the Finest Properties and Rental Boats on Kentucky Lake, guests enjoy special pricing on all Fish and Ski Boats. Cruise the lake with whisper quiet Yamaha outboards, towing setups, live wells, swivel fishing seats, GPS fish finders and more. Our Entire Fleet is Perfect for Family Fun – Versatility ensures that the boats can be set up for the renters preference:  every accessory for fishing can be removed to make way for tubing or just cruising.
Please click BOAT RENTALS on menu for guest rates, details and additional photos of our fleet.
All boats are delivered to your Private Covered Dock, only 70 ft. away.
KENTUCKY LAKE VACATION RENTALS   270-978-0624
The Ideal Vacation Spot…
With a total renovation to this 2450 square foot home complete,  it becomes the model for the optimum vacation experience anywhere on Kentucky Lake.  Conveniently located only 13 miles from Murray State University.
Having the closest proximity and most gentle slope to the water of any rental home in the vicinity are not the only reasons it delivers such an unrivaled experience on the Lake.  Outstanding features and an extraordinary location are factors contributing to its distinctive standing.  Unlike the resorts and rental homes in crowded coves with heavy boat traffic to which so many visitors to Kentucky Lake have grown accustomed,  here is a vast,  wide open,  peaceful vista across the main lake of the Land Between the Lakes.
The façade of this ideally positioned,  traditional lake home is a perfect melding of Craftsman Style with Cedar Shake.  Before even stepping inside one first senses its richness.  The unparalleled view of the lake and warmth of the natural red cedar says welcome.  The exterior accents of stained glass windows and lighting with complementing colors confirm the quality that signals the start of a very special time away for family and friends is about to begin.
CAREFREE WATERFRONT LIVING – was the objective when the home's deluxe,  aluminum, covered dock was selected:
The Fishing Possibilities at the dock are exceptional with a great population of bluegill,  bass,  crappie  and catfish.
As for the Access – Here there is no steep slope or long trek to the dock.  Being only seventy feet away,  step out the door and be on the dock in a minute or less.
Coverage and Quality are Redefined – Equipped with an attractive and highly functional hip roof,  superior protection from the elements is ensured.  Not only is the aluminum decking non-slip,  but it is splinter free. There is electricity for charging trolling motors as well as water and a fish cleaning table for your daily catch. Sorry, only property rental boats are allowed on the premises.
Then,  there is the Relaxation & Recreation – If after a day out you return with the sense that exploring and playing on the lake can be both fun and hard work,  here is the place to reflect on the day you have had and contemplate tomorrow's plans.  Having a 12×28 swim platform complete with a retractable ladder makes this the spot to share a fun and rejuvenating break lounging,  sunbathing or swimming.
A BOAT RENTAL ON THE PROPERTY:  Is one more convenience,  and can add hours to vacation time on Kentucky Lake.  There is no drive to and from a marina to collect and return a boat.  For a rental over multiple days how great it is to have the driving completely eliminated.  Imagine instead the pleasure of a sunrise breakfast ending seamlessly with a stroll across the lawn to board the boat that awaits you at your private dock.  Effortlessly,  straight from the comfort of your home, a day on the lake begins…
Come see inside by clicking TAKE A TOUR above.  Thank you, Pam and Paul Guy.
KENTUCKY LAKE VACATION RENTALS      270-978-0624
House
Free Wi Fi
Accommodation Type –   Kentucky Lake Vacation Rentals
Location –   Lakefront with Your Own Private Covered Dock
Meals –   Guests Provide Their Own Meals
Minimum Age Limit For Renters –   Primary guest must be at least 30 years of age.
Children Welcome –   A huge selection of books and games for children and adolescents.
Non Smoking Indoors
Pets Considered –   Pets are accepted on a case by case basis with the pre-approval of the owner. When inquiring please indicate the breed and weight. There is a pet fee.
Bedrooms…
3 Bedrooms, Sleeps 6 (max) , Beds for 6
Bedroom 1 –  Lakefront with a private sliding door onto deck – 1 queen – private half bath.
Bedroom 2 –  Lakefront with a private sliding door onto the stone patio – 1 queen.
Bedroom 3 –  Lakeview room with two full beds –  2 double
All beds have Swedish foam pillow-top mattresses.
Bathrooms... 
2 Bathrooms,  1 Half Bathroom
Bathroom 1 –  Blue tile bathroom with Artisan stained glass window –  toilet, shower. Eight foot shower stall with a built-in bench & body jets.
Bathroom 2 –  Downstairs full bathroom –  toilet, combination tub/shower – terracotta tile floor.
Bathroom 3 –  Private half-bath – toilet – located in the upper lakefront queen bedroom with toilet & sink.
General…
Air Conditioning –  Central Heat/AC
Clothes Dryer –  Front Loading
Fireplace –  On the upper level in the dining area with raised hearth. (Duraflame logs only)
Hair Dryer
Heating –  Central Heat/AC

Internet –  Free Wi Fi
Iron & Board
Linens Provided –  Egyptian Cotton Sheets.
Living Room –  Another wonderful lake view!
Parking –  Easily accessed, spacious paved drive for several cars.
Towels Provided –  Plush Bath Towels
Washing Machine –  Front Loading
Wood Fireplace –  Duraflame logs only.
Wood Stove –  In the primary living space. Duraflame logs only.
Kitchen…
There are two full kitchens in this home. One upstairs and there is also an equally equipped full kitchen in the downstairs bar area. With two ideal options provided for festive, warm, gatherings, indulging in a celebration is perfectly convenient regardless of on which level you choose to gather together. You will always be prepared and ready to spill out onto the upper deck or the stone patio below. In the bar, in additon to all of the amenties of the full kithchen, there is a 42 bottle wine cooler.
Coffee Maker
Cooking Utensils – Coffee Maker with filters provided, Toaster, Blender, Spice Rack with 20 options, Extensive collection of utensils and kitchen supplies.
Dishes & Utensils
Dishwasher – There are 2, one on each level.
Ice Maker
Microwave – (2) One on each level.
Stove/Oven – (2) One on each level.
Toaster
Pantry Items

Outside…
Balcony –  Deck makes you think of being on a Cruise Ship
Boats –  Several clean, well equipped boat rentals for every type of boater
Deck/Patio –  The deck is equipped with dining tables and comfy chaises in sun or shade. It is perfect spot for morning coffee, meals, relaxing with a good book, taking in the sunrise, or watching the family swim and fish from the dock. The patio below has seating and the same view!
Golf –  Award Winning Miller Memorial Golf Course is 12 miles
Kayak/Canoe –  16ft. 2 man kayak available for rent.
Lawn/Garden –  4 acre property with shaded areas and lush grass for you to enjoy.
Outdoor Grill –  Stainless Gas Grill  / Propane provided
KENTUCKY LAKE VACATION RENTALS    270-978-0624
THE MAIN DECK IS ONE OF THE OUTDOOR SPOTS TO RELAX.  From the branch of a surrounding tree a Bald Eagle may preside over a meal or casual break,  he's the perfect compliment to the awing view.  The options for stretching out in the sun or shade are right here – the deck is outfitted with comfortable chaises and dining tables.  If the guests feel like relaxing even closer to the water,  this home's covered dock has a large swim platform perfect for taking in the view while soaking in some sun – It has an area for sitting in the shade, too.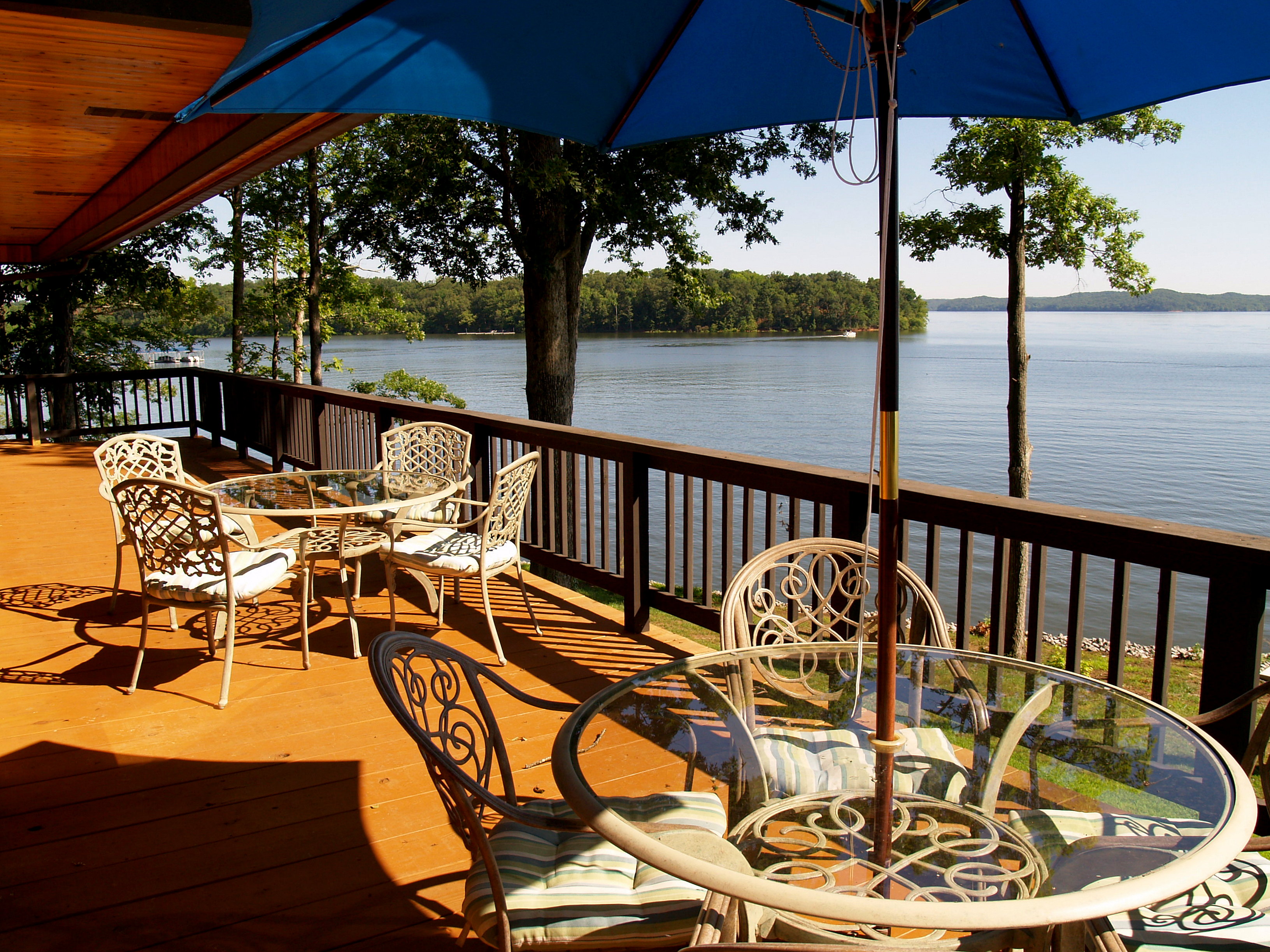 Once inside it takes just a glance out of any of the numerous windows and doors for guests to know they have the ultimate vantage point.  From the main deck,  hand laid stone patio,  and rooms on both levels,  visitors find their attention drawn to the pristine blue water.  It is so close that when rising in the morning,  dining throughout the day,  or just relaxing, one is struck by the familiarity of taking in the view from the balcony of a cruise ship.  In reality this view is from a homey three bedroom,  two and a half bath escape.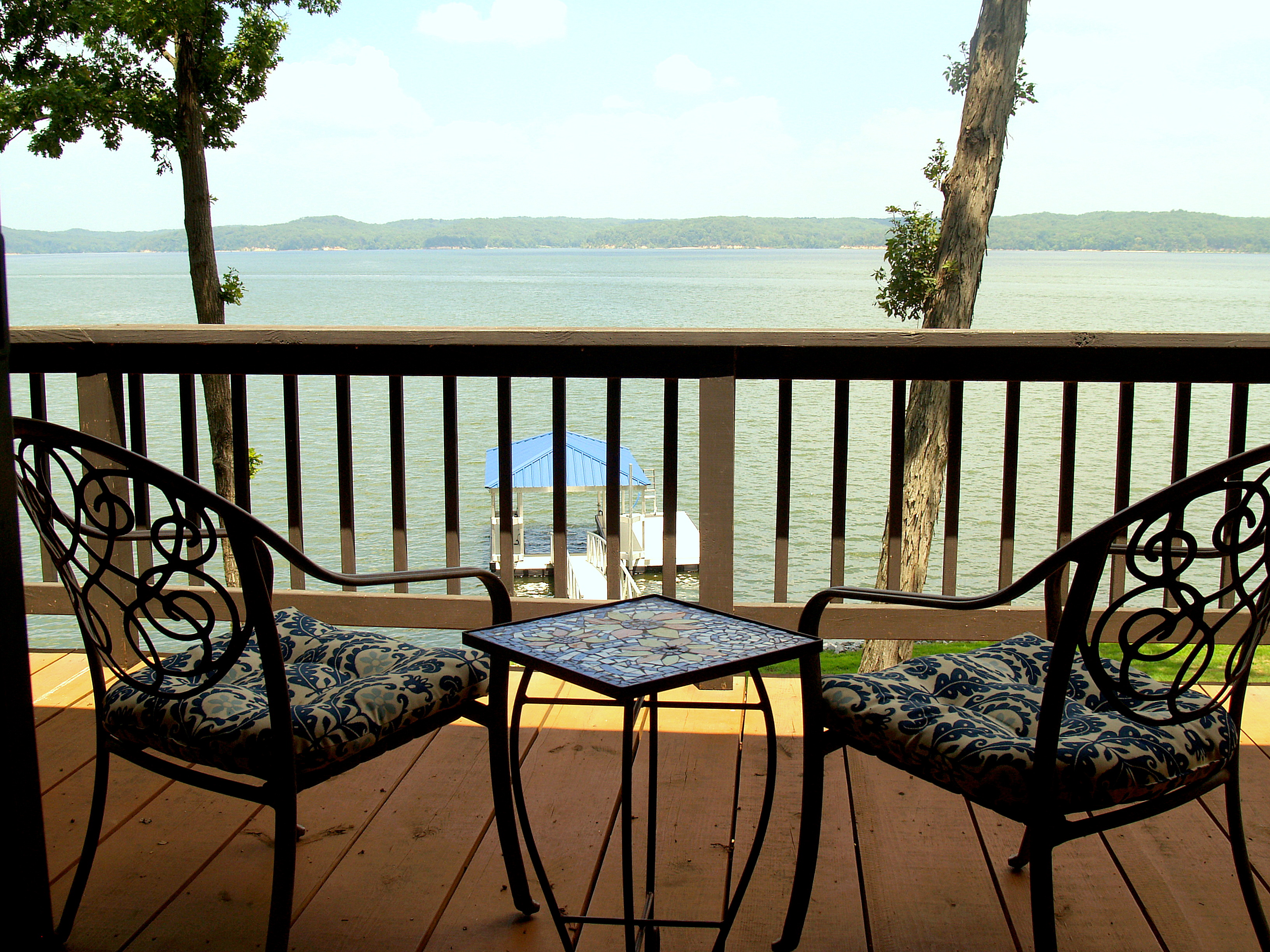 UPSTAIRS IS ONE OF THE HOME'S TWO KITCHENS.  Spacious,  well equipped with a walk-in pantry,  stainless appliances,  granite countertops and an Italian tile floor.  The kitchen joins the dining room with hardwood floors and a unique raised stone fireplace.  The combination makes for a large friendly space where many great meals are enjoyed surrounded by walls of windows facing the lake.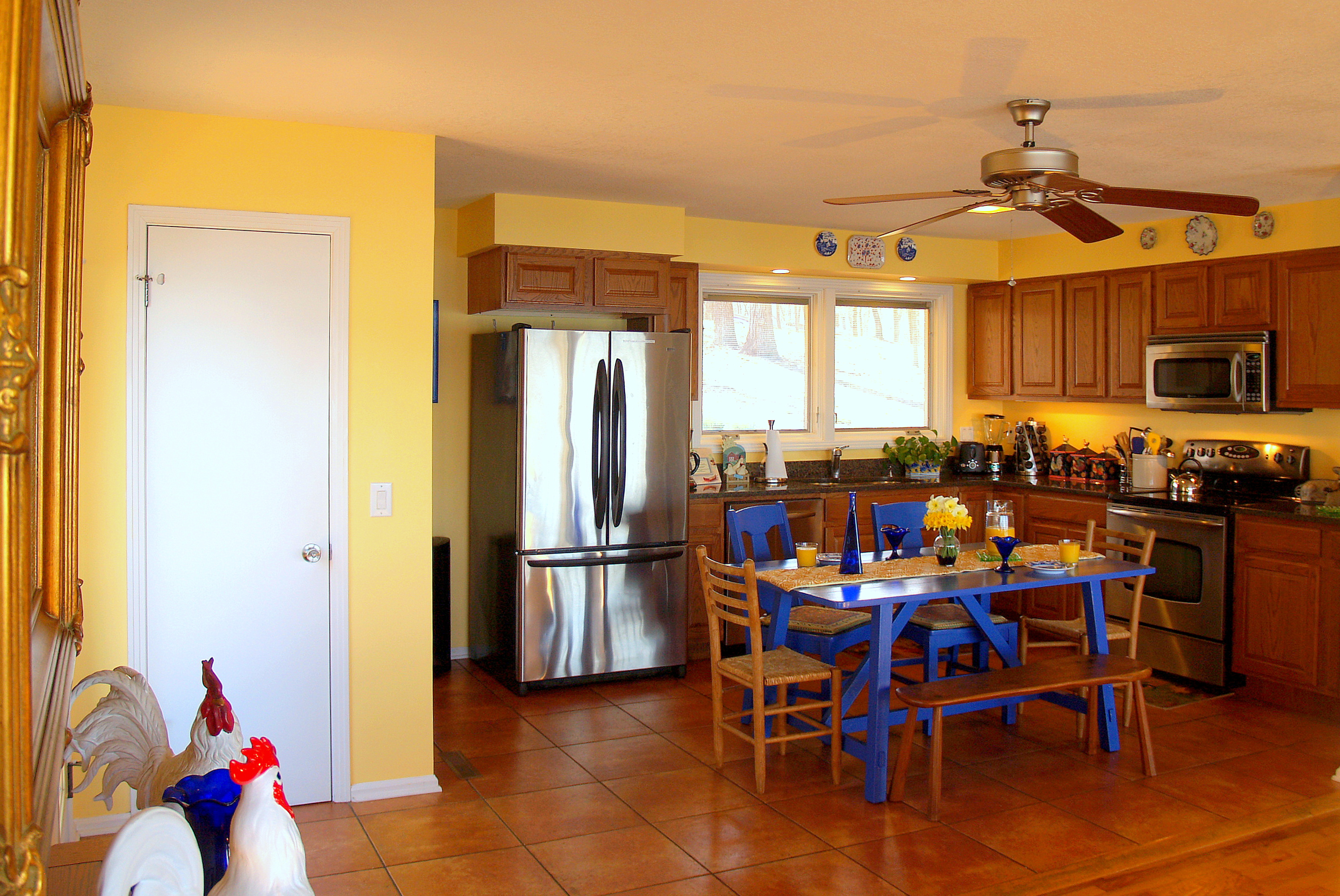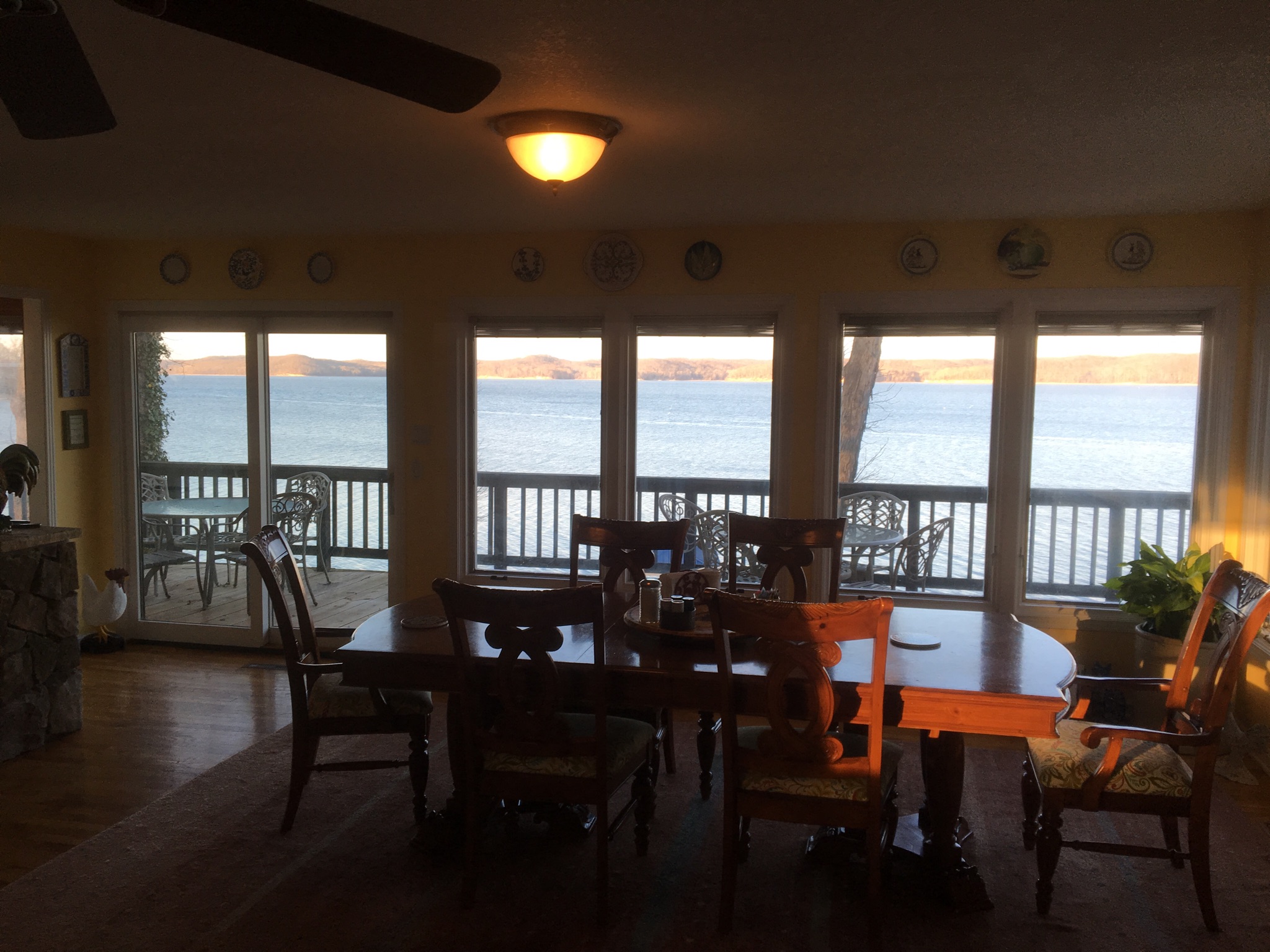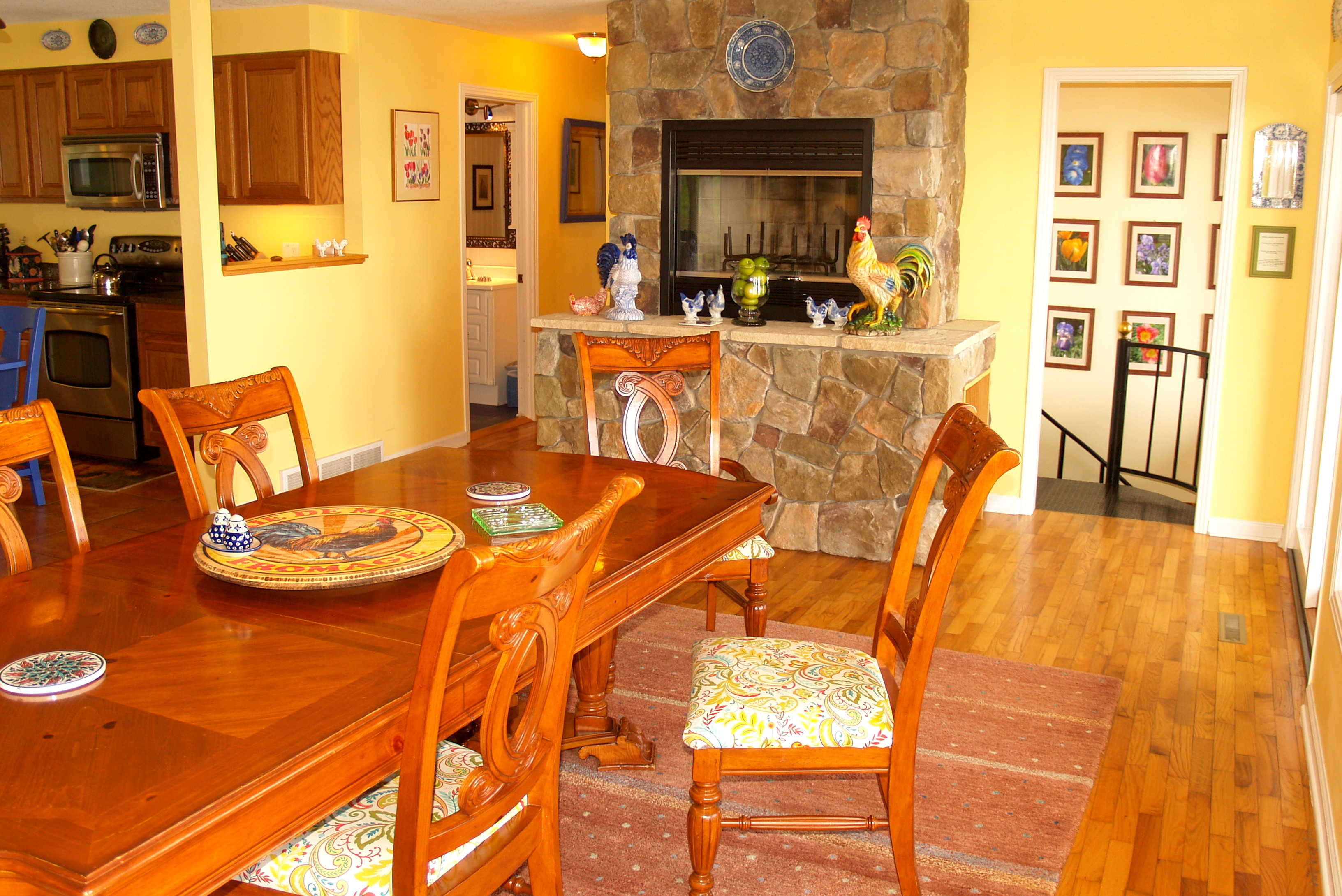 Upstairs are two bedrooms with lake views.  One with two full beds and a Guest Suite with a queen bed,  private half bath and its own large sliding glass door with direct access to the deck and the soothing lake view.  The primary bathroom on this level is striking with an eight-foot,  modern,  custom designed shower stall,  entirely clad in marine blue tile.  It has a built in bench,   shower heads at both ends,  body jets,  and a large,  stunning,   stained glass window created by a local artisan.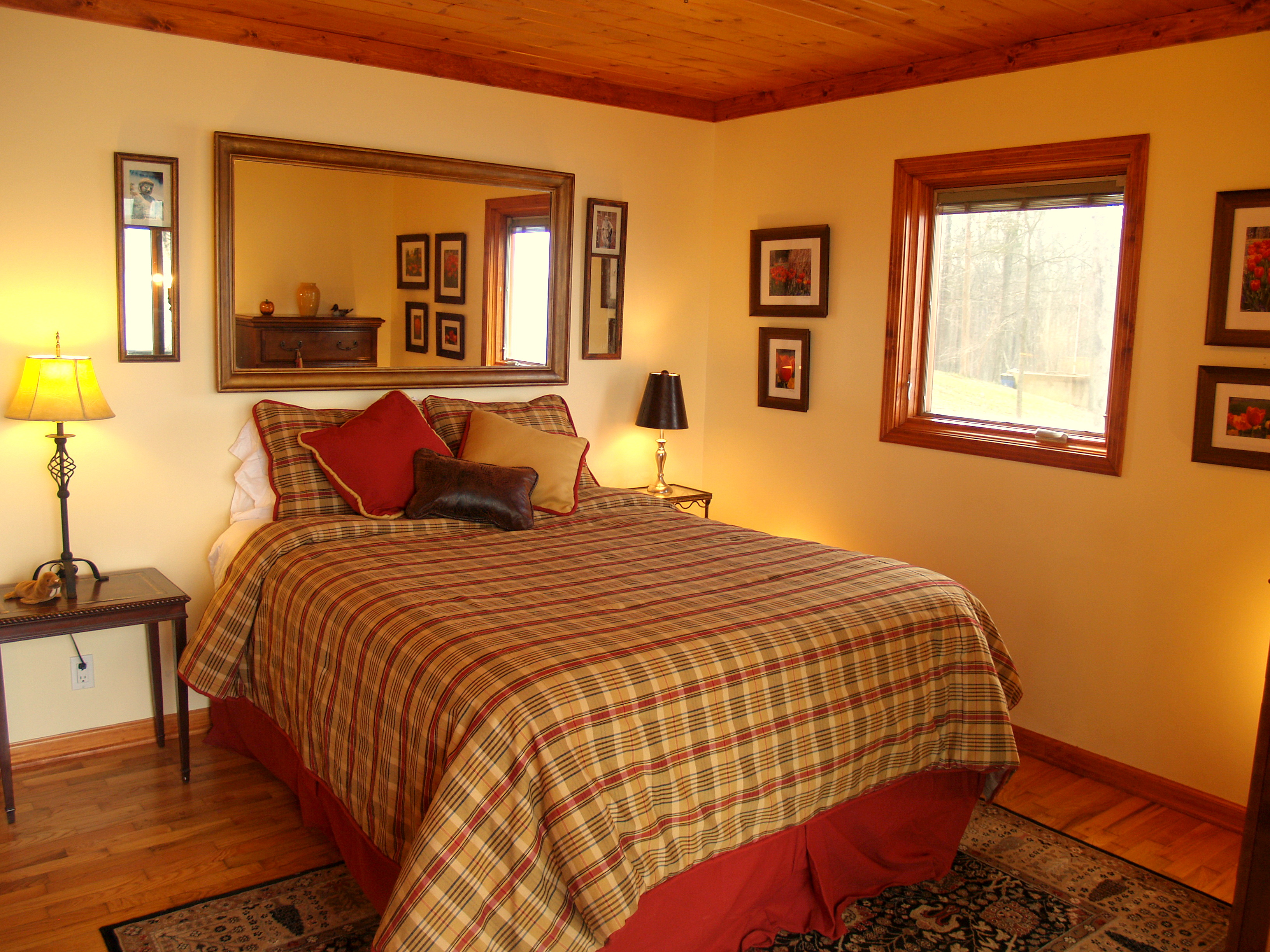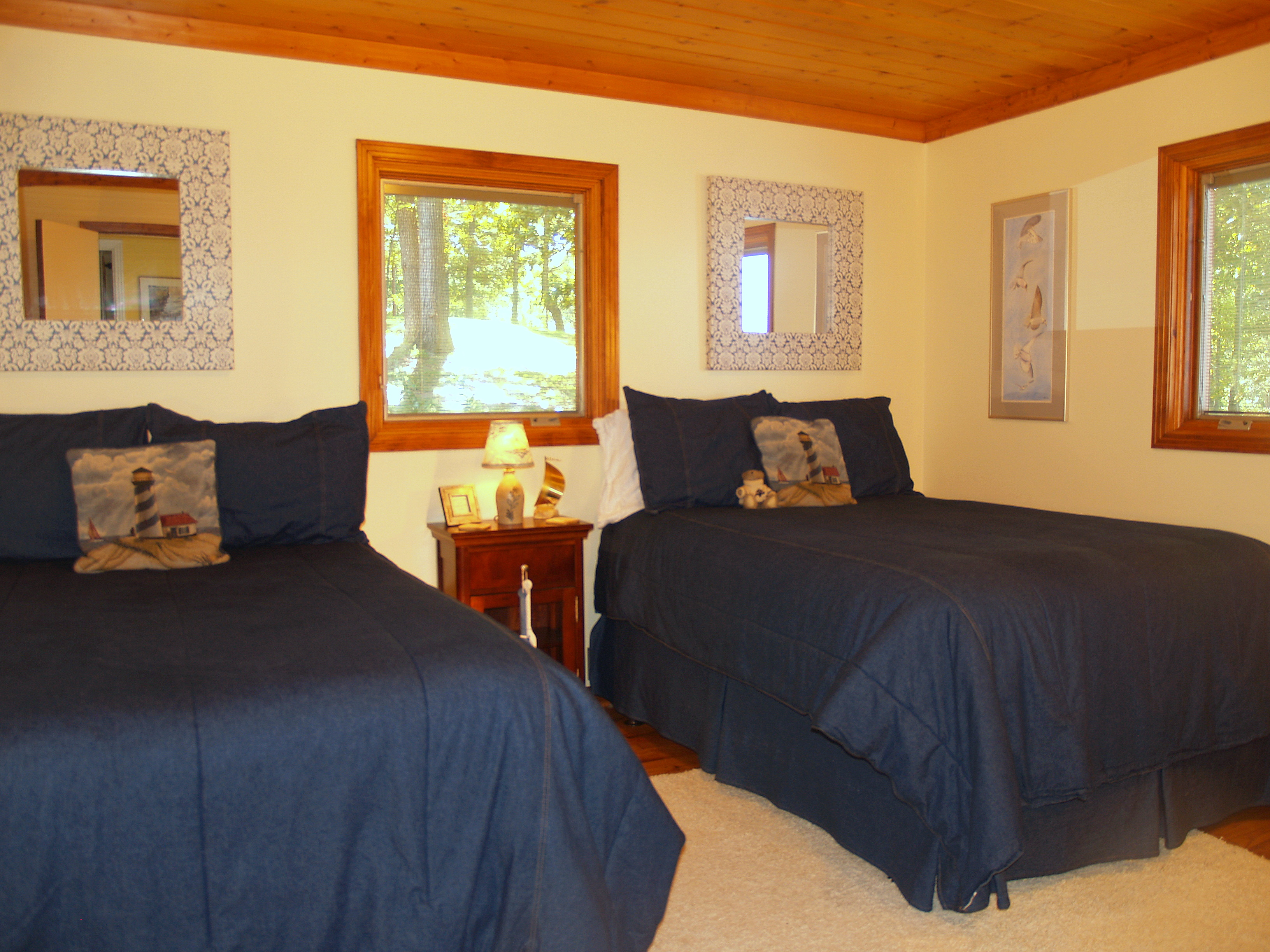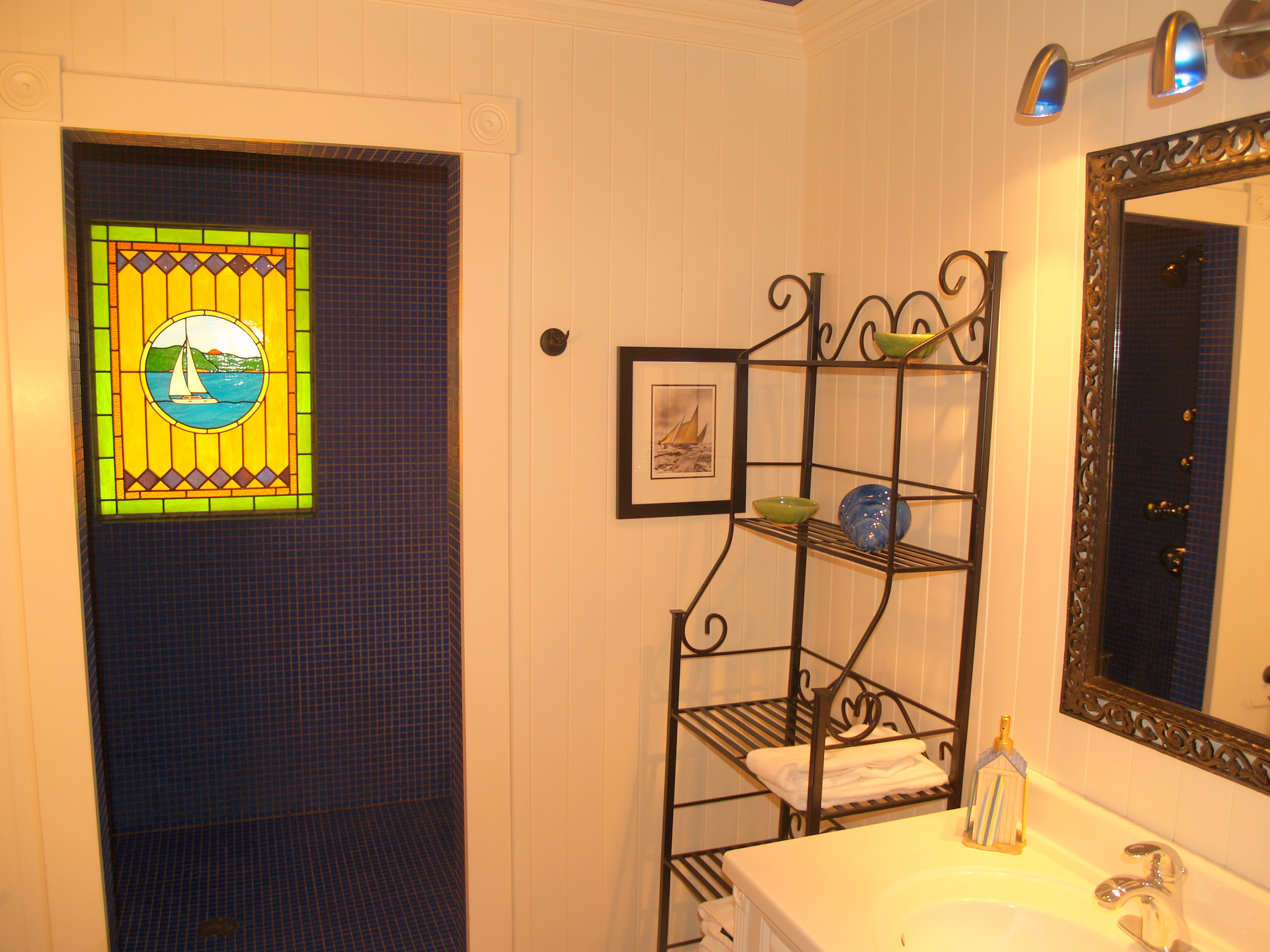 The downstairs is reached by a spiral staircase. Numerous windows ensures the lake continues to be the focus. The bedroom here features sliding glass doors with a direct prospect of the lake. Its occupants may choose to step out onto the patio sitting area or remain in the comfort of their bed to find themselves inspired by the captivating morning sunrise, promising the perfect start to the day.  One wall with interior arts and crafts style stained glass windows adds a dramatic architectural detail.  This accommodation has access to a walk-in closet with a front loading washer and dryer, as well as a full bath.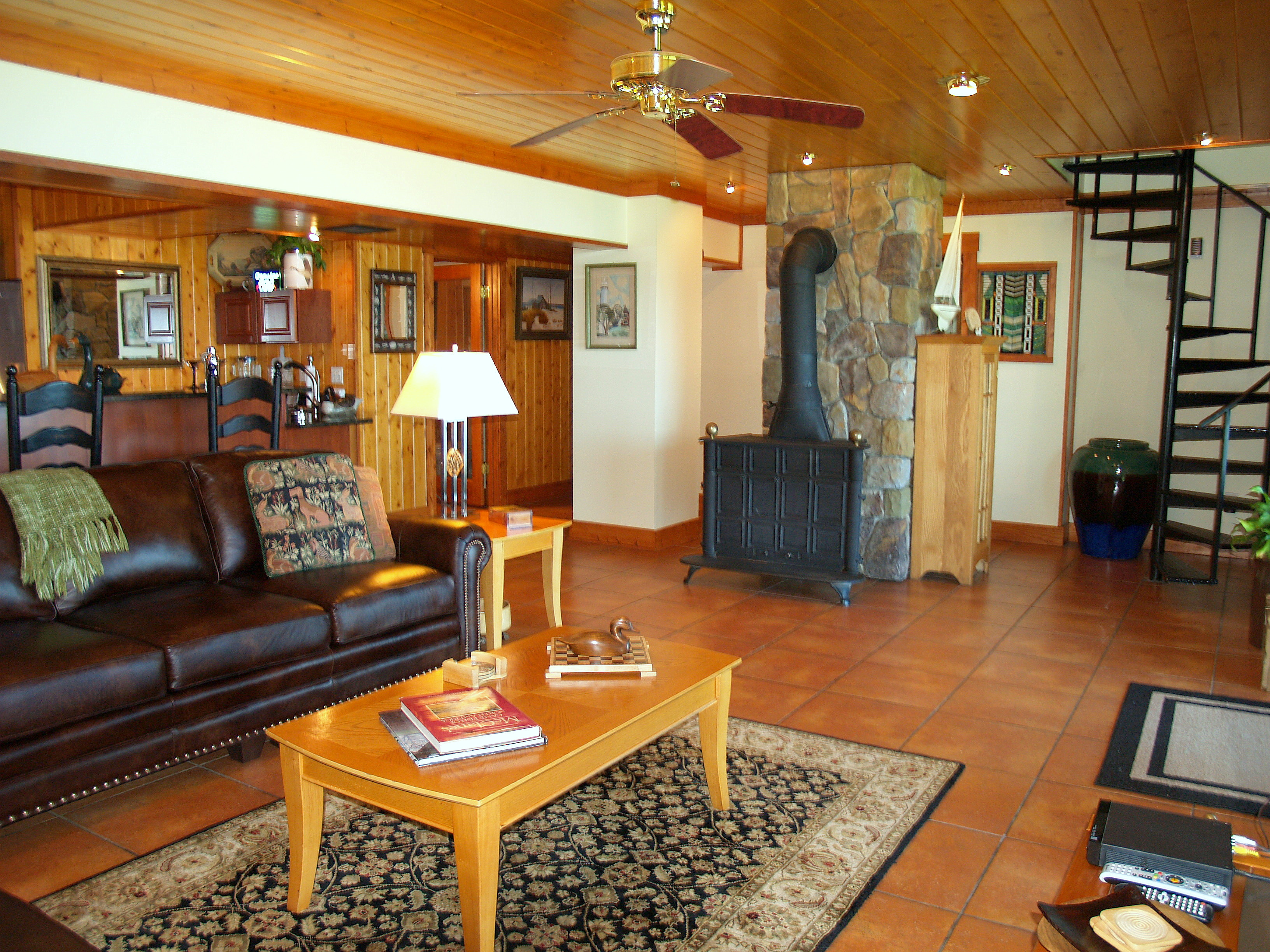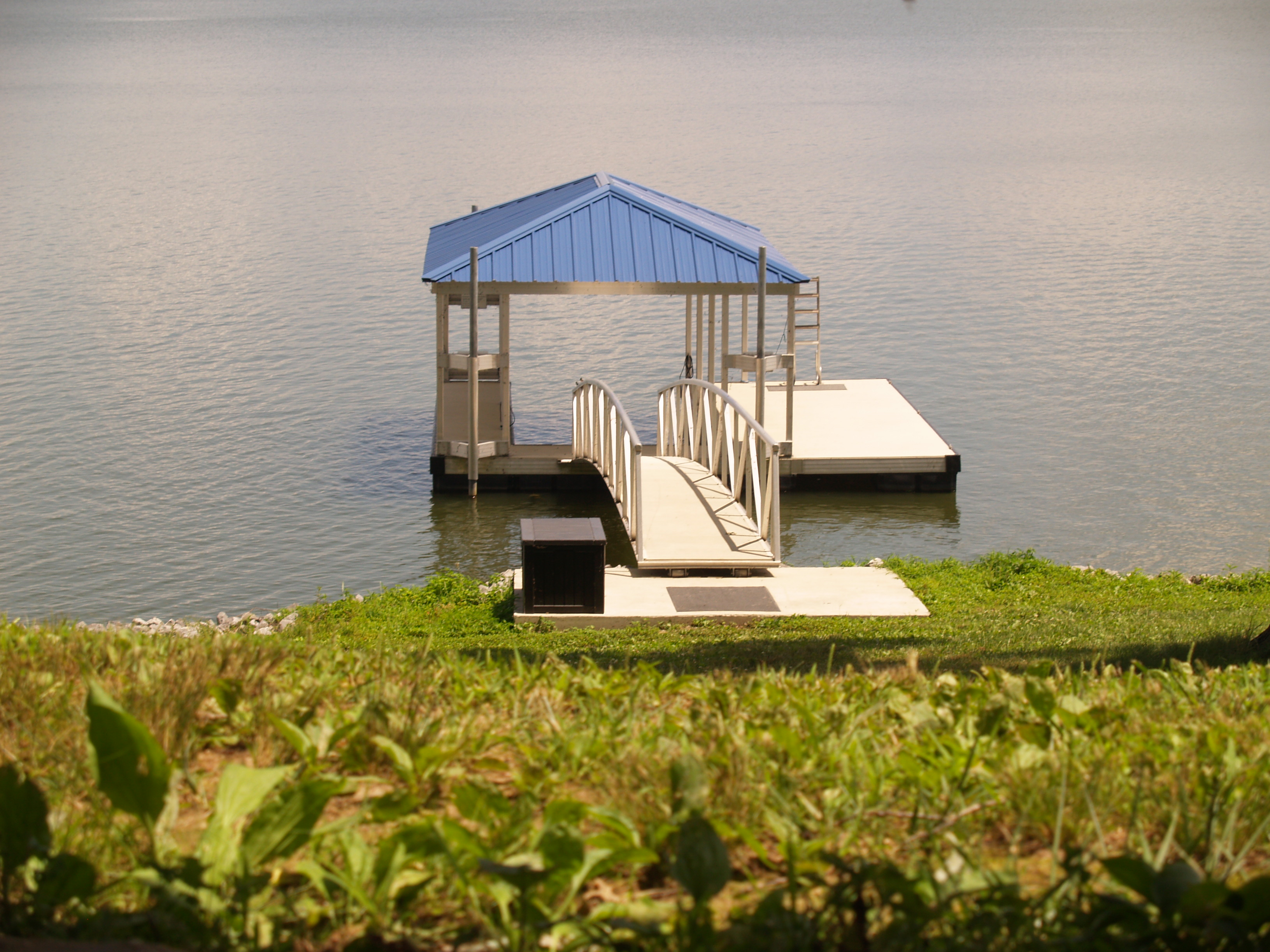 THE MAIN LIVING SPACE LOOKS OUT ON THE WATER – the smallest of needs have been considered and met here.  An eight-foot granite bar and an additional full kitchen outfitted with cherry-wood cabinets and stainless appliances provide all of the tools needed to entertain on the lower level with ease – it is the backdrop to the living room.  Furnished with a great arrangement of comfortable seating – here is an area ideal for a special reunion that will remain etched in the minds of all who attend.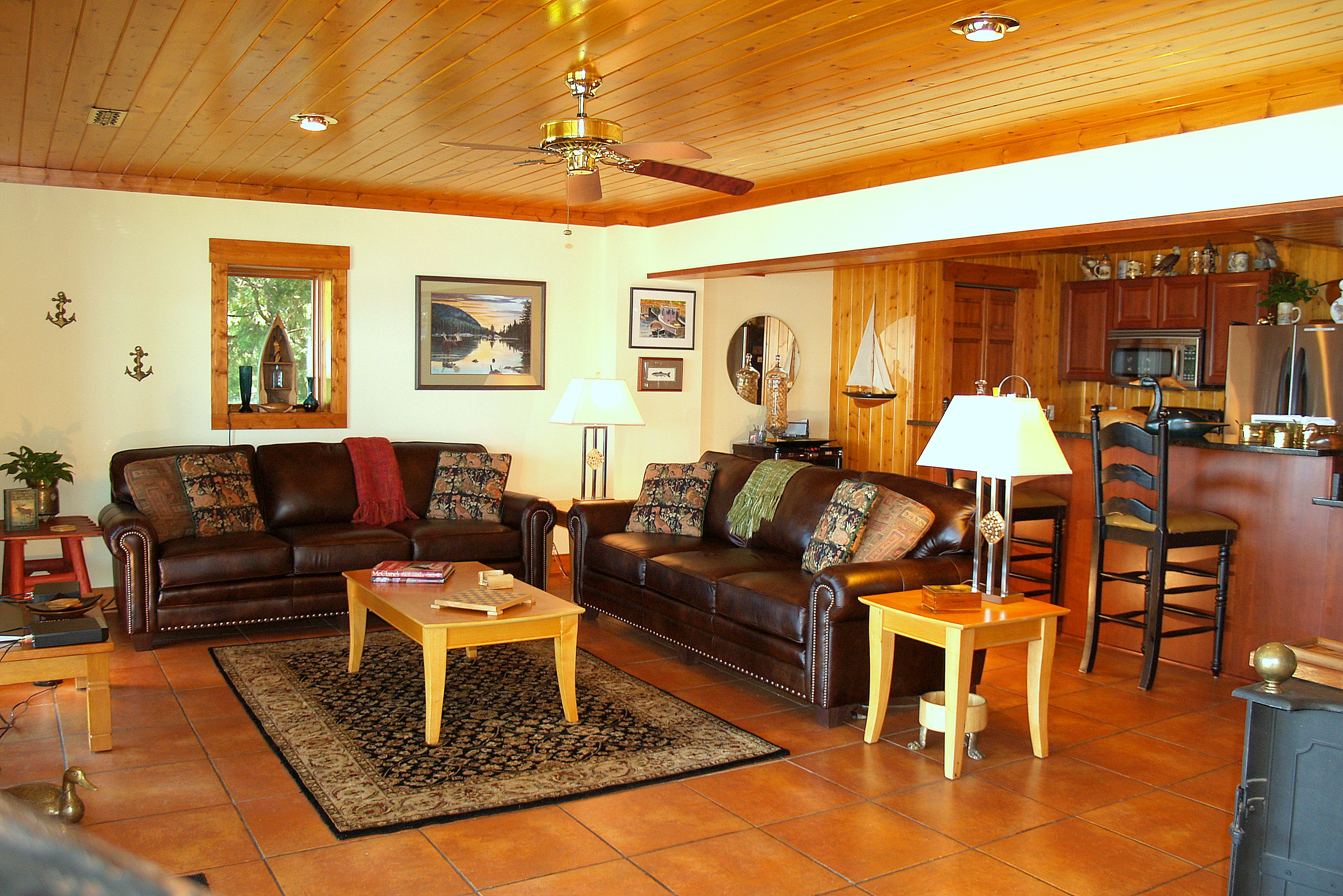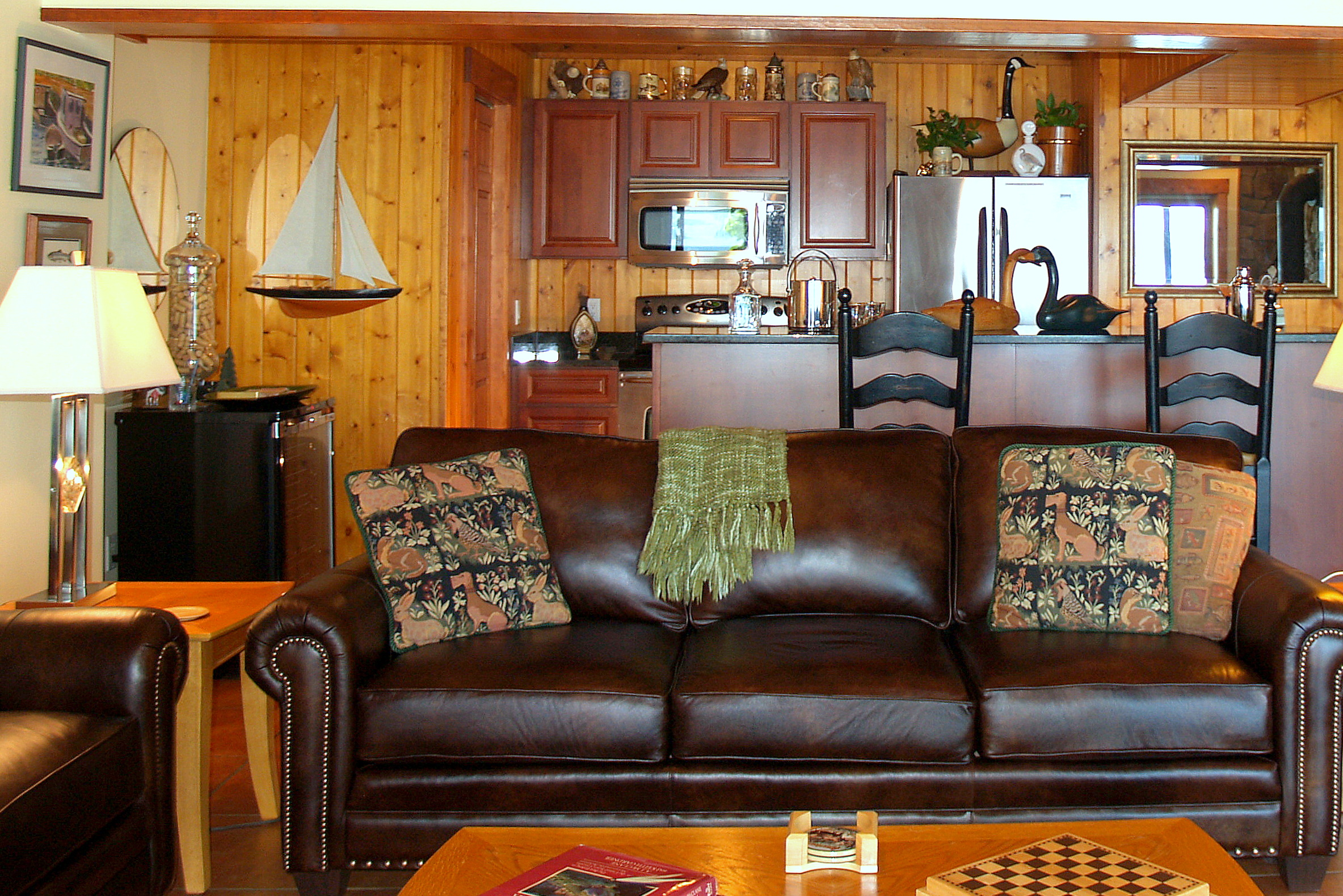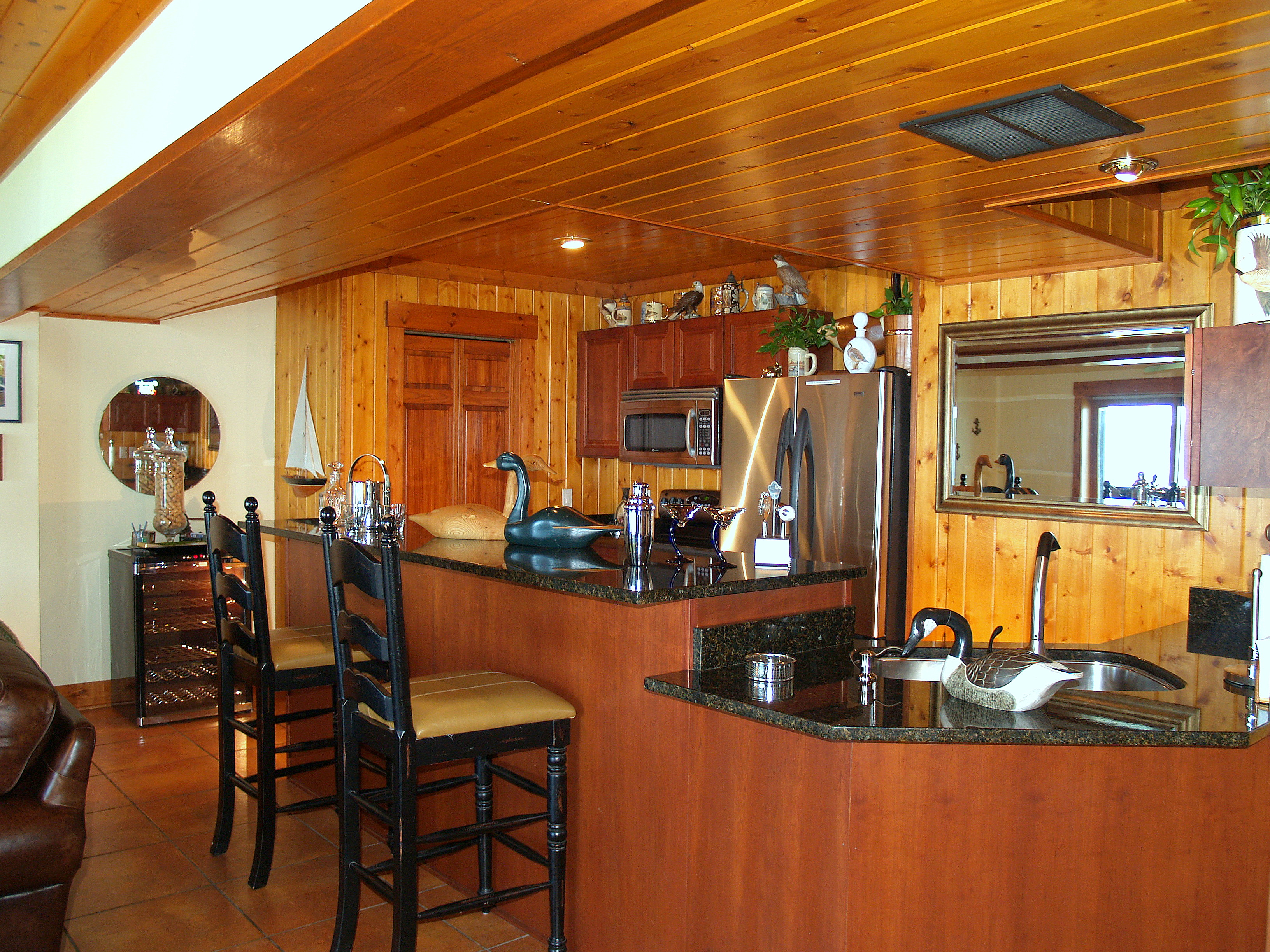 KENTUCKY LAKE VACATION RENTALS   270-978-0624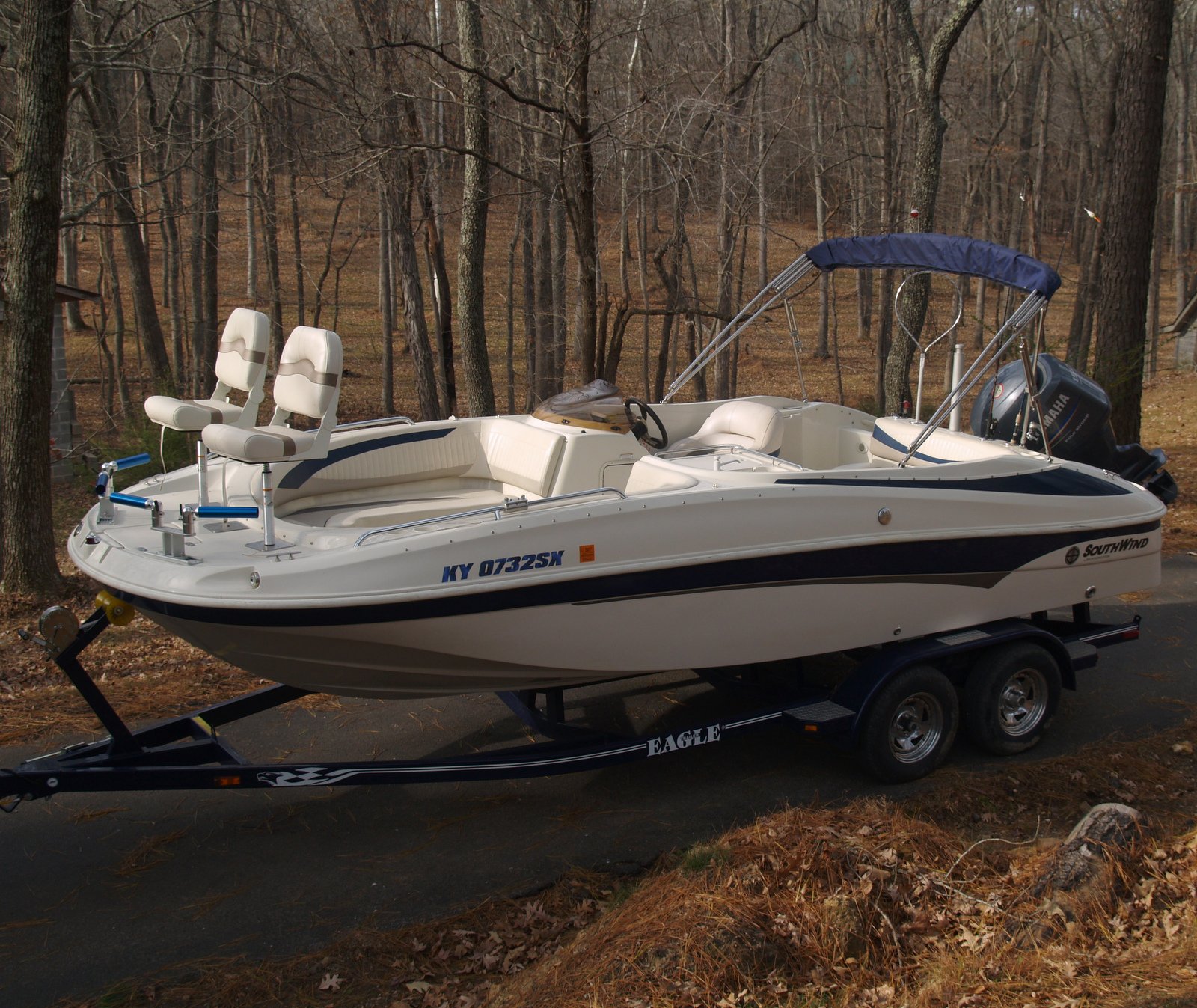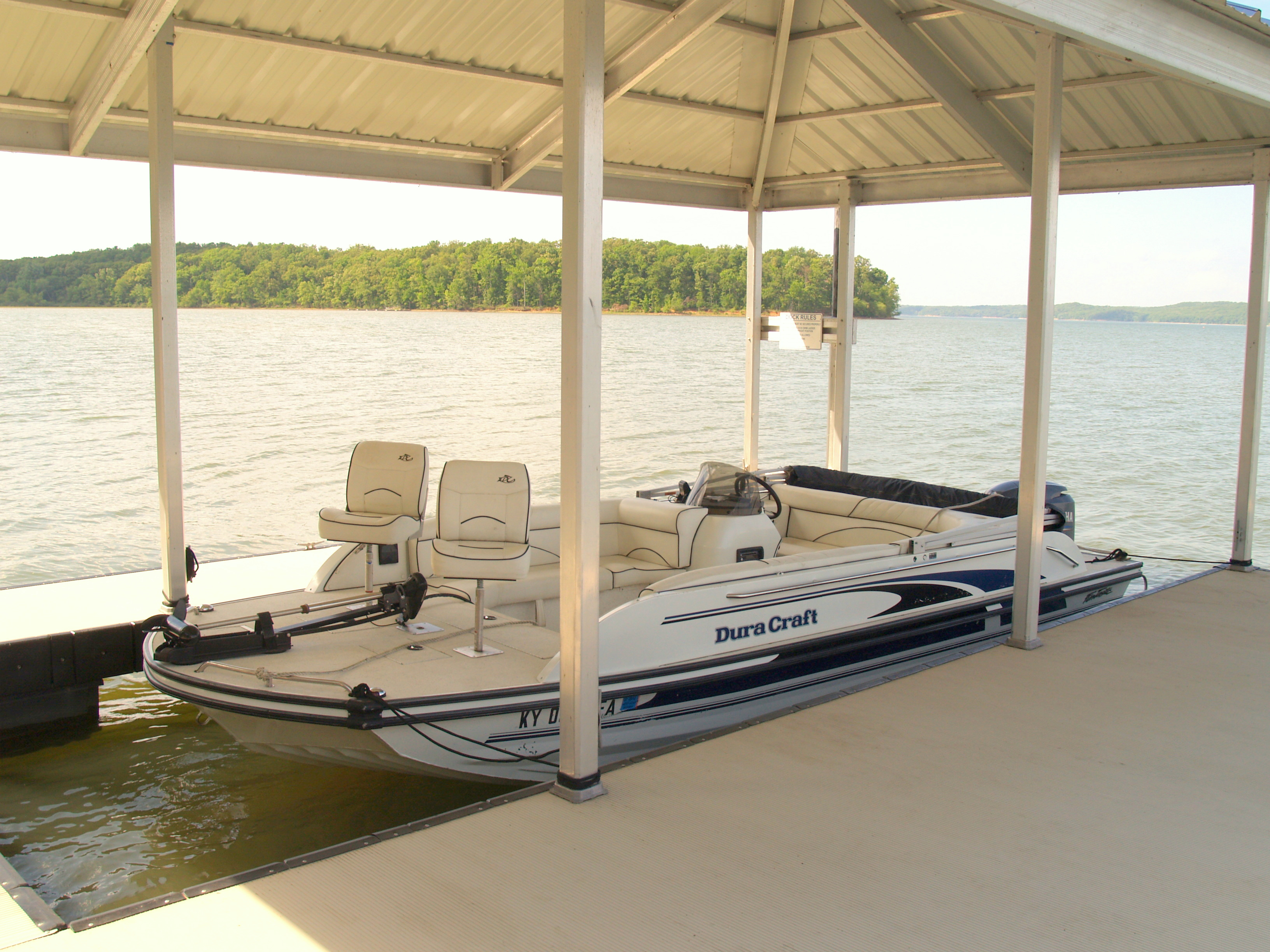 Launching a New Level of Adventure…
Our fuel-efficient rental boats are the finest on Kentucky Lake.  They are well  maintained for a trouble free day on the lake.   With comfortable seats,  Bimini tops for shade and the latest in Full Color GPS Mapping and Sonar,  being on the water has never been so affordable. Please click BOAT RENTALS on menu for special rates,  details and additional photos of our fleet.
All boats are delivered to your Private Covered Dock,  only 70 ft. away.
KENTUCKY LAKE VACATION RENTALS      270-978-0624
 "Long Weekend R & R!"
We just got home and I had to write what wonderful hosts Pam & Paul are! From the initial inquiry about property, Pam & Paul made you feel like family coming in for a visit. The pictures of this house on line do not describe how BEAUTIFUL this house really is in person and welcoming. Everywhere you looked in the house or yard, there were little touches making it very personal and inviting. EVERY amenity in the home was upscale, yet practical. If you forgot to pack something, chances are it was already there and ready to use. The stars are amazing here at night and not something we get to see from this perspective living close to a major city. We did rent their boat and followed Paul's and the owner of "Baits N More" advice on the best fishing spots and were not disappointed in the least. Within minutes of dropping line, fish were biting. I am training for the Goofy Challenge in January and asked Pam for some good trails or routes while there, she did not disappoint and picked out a great paved route. NOTE THOUGH; if you ask her to map something out for you and the guide shows "steep hill" believe her! We don't have hills like this in the Chicago area, so the challenge of the trek was very rewarding! Already going through withdrawals of the view, but looking forward to coming back again soon. Maybe even an annual excursion, but bringing the kayaks with us next time to check out some of the little coves along the shoreline. In Aurora , the Pond was very much homestyle food & friendly service. THANKS Pam & Paul for a wonderful place to call home for a few days. Our dogs slept hard every night from exploring and barely moved on the ride home."
Jen, South Holland, Illinois
"Great For Families"
Our family of 5 found this home and it's surroundings to be just as appealing as the pictures show. Views are incredible. You get the feeling you have the whole lake to yourself. The owners second rental on this property is about 50-60 yards away, and screened by trees and greenery. That's the only other house you can see from this property. Across the lake is the Land Between the Lakes, with no homes at all, you can see about 5 miles of shoreline with not one house visible.
Pam welcomed us when we arrived, and the home was one of the best we've stayed in. Beds were comfortable, appliances were new and in good condition, the house was clean and having some basics supplied like paper towels, soap, cleaning supplies, foil, plastic bags, spices, etc. was a nice convenience.
We rented the boat for 5 days, it was in good working order and is suitable for both fishing and skiing/tubing, with more than enough horsepower. We did plenty of both.
When our children weren't fishing or tubing, they were swimming off of the dock, which always has one side shaded from the sun where parents can watch them in comfort. Our 3 kids all voted this as either their #1 or #2 vacation of all time. They passed out every night at 10:00 p.m., exhausted from a great day. I can't comment on the area attractions, our kids didn't want to leave the property.
The owners, Paul and Pam, were available if they were needed, but otherwise left us alone to enjoy our time together as a family, which was appreciated. You don't get the feeling that somebody's keeping an eye on you at every moment, like we've felt at some other homes.
As a family we try to never go vacation in the same place twice, but this stay made us reconsider. I rate this a 5 star stay all the way."
J.D. Kulka, Cleveland, Ohio
"Could Have Not Hand Selected a Better Place To Vacation"
This was our first stay at the property. My buddies and I were looking for a great base to do some fishing. The house had a great dock and a boat rental available. We rented the boat for three days and had a blast catching bluegill and bass. The owners had a new fish cleaning table right at the dock. The view is one of the nicest I have ever seen and the quality of the home and amenities is off the charts. Owners were very nice and helpful and gave us some tips on fishing spots and local dining. We will be back!"
Stu, Madison, Wi
"Great Escape"
Wonderful property and a great place to relax. Pam and Paul were great hosts and the property was everything we were told. Enjoyed our time there very much and the property was neat and well maintained. Lovely house to stay in, but we spent most of our time on the dock and in the water. Highly recommend this property and would be more than happy to go back again."
Tom L., Raleigh, NC"Wonderful, Well Rounded Rest!"
Fishing, boating and site seeing were our goals. My husband, our friends and I left having done so much more!
This isn't a house, it is a wonderful home, every room is welcoming and decorated in the most thoughtful way and with more than we expected to find. And, yes, the view is unbelievable!
We rented the property deck boat; it's comfortable and ideal for getting around and fishing. Paul brought it to our dock and literally showed us the ropes. He got us going with everything we needed to be out on the lake. We had a great time cruising and fishing. We caught a variety of bass.
I'm a novice quilter, but my friend is a real talent – she's always wanted to visit the world renowned quilt museum here. She and I had a great day in Paducah. The quilts are masterpieces. Pam gave us good recommendations on other things to do there – a winery visit and impressive antiques center.
My only concern as our vacation approached was falling behind in my marathon training while at the lake. Pam greeted us when we arrived – I told her about being in training for an Oct. marathon and hoping to get in at least a few morning runs during my visit. As it turns out, I am confident this vacation helped me run a better marathon. Pam was very enthusiastic about helping – she's run the Boston Marathon, she gave me 3 different typed up routes, each a different degree of difficulty, as well as some great tips. By the time I left I tried all of the beautiful, peaceful routes and ran the most challenging one twice – really hilly, ideal for marathon training. The rest of the group joined me once for a beautiful walk on a nature trail within walking distance. This is the place to visit if you are in training, just like a great daily workout, or just want a wonderful lake vacation!
Thank you for a completely satisfying holiday!
PS, AZ
"A True Gem Close To Nashville"
My girlfriend and I were looking for a romantic getaway weekend and needed to stay close to Nashville. We read the great reviews of the property, and the photos seemed to show the ambiance we were looking for: a cozy spot on the lake with charm, modern amenities, and a lodge or resort cabin atmosphere. We were asking for a lot, in other words.
I called and talked to the owners, Pam and Paul. They could not have been more patient and helpful with all my questions. This was my first vacation home booking and I did not know what to expect. I was a bit anxious to make and pay for the booking through the mail, including a deposit, but there was absolutely no cause for it: everything went exactly as promised, and my deposit check was returned very promptly after our stay. These are very trustworthy and professional owners, and they have set the bar very high.
Anyway, we lucked out that the property was available on the fall weekend we chose as the fall colors were at their peak, and the setting of the home on the lake looking across to the unspoiled shoreline of LBL was breathtaking. The view and the setting exceeded our expectations in every way.
The home was much better even than was anticipated through the photos. The owners have a background in the hospitality industry (as do I, so I'm pretty picky), and there were very nice touches throughout– plenty of cooking utensils, a bar area on the lower floor, plenty of towels, and a really fantastic shower.
Everything was very clean, well-kept, and worked as promised. This is a true gem of a property, just a short distance from Nashville. We are already thinking about trying to come back in the summer months. It was a wonderful stay for just the two of us, but there was plenty of room and I think even two families would have plenty of space, especially in nice weather. Don't miss the opportunity to stay here if you are looking for someplace on Kentucky Lake or if you are wanting a nice weekend getaway close to Nashville."
Steve W.
"So Private, So Peaceful!"
We visited the owners other rental, the stone cottage last year. This time we came back with more family and decided to try this larger home of theirs. It was wonderful!
My sister and her family in IL came down to meet us. These properties are the first we've rented where we found such privacy. So often there are other homes too close for comfort in every direction, but not here. We enjoyed walking the beautiful, relaxing grounds, and the surrounding area with the dogs.
Whether you are outside or inside looking out, remarkable views are everywhere. You are just so close to the lake! We really took advantage of the private boat dock – caught several fish. We rented the boat they have for visitors. It's a quality, very comfortable boat, we were surprised by how little fuel it used, not dealing with the whole back and forth with a marina was a major bonus.
Don't know where to begin on the ideal layout of the house and the generosity of the owners with the quality of the furnishings, amenities and all of the little extras they have provided. With toddlers along we made great use of the high efficiency washer and dryer – we'd have been lost without them!!
We are already looking forward to our next visit. Thank you so much for another very special and carefree vacation.
Ron
"Wonderful Vacation Spot!"
This was our first vacation on Kentucky Lake and we feel so fortunate to have chosen this lovely home for our stay. I believe it would be hard to find a more beautiful view of the lake than from the spacious deck or through the walls of windows and patio doors – it was hard to come in from the deck and go sightseeing! Our hosts were gracious, answering our questions in preparation for our visit, and met us to give us a tour of the property when we arrived. We would like to return someday and would recommend this location to anyone wanting a peaceful, relaxing vacation amid the beautiful county surrounding Kentucky lake."
Gloria C., Iowa
"Much More Than a Vacation Home"
We love to getaway, have stayed in many rental homes and resorts, this place ranks at the top. The experience is personal, like having friends we all envy because of their great home offer to let stay while they are away. It is beautifully and thoughtfully decorated. The original photography hung throughout is a great touch. There are many comfortable options inside and out to gather round or take a break alone with a book. It was a major bonus to have two full kitchens and two huge refrigerators. Upstairs was ideal for breakfast and dinner. The downstairs kitchen with a bar served very well for snacks, lunch, and appetizers!
It feels like a caring friend has made sure anyone coming to stay will be relaxed and know that their well being is the is the priority. There are many specific items the home is stocked with that make it warm.
From the moment we inquired about staying to the day we departed the owners were incredibly gracious. We rented the deck boat they have available, it was top notch. When renting boats on vacation in the past we've had to find a nearby marina, go and get a boat that might not be of great quality and deal a long list of restrictions. This is a whole new and very welcome arrangement – as we were finishing breakfast on the deck Paul arrived at our dock with the boat. Pam gave us great pointers on visiting Land Between the Lakes. It was under 15 minutes to get there and we had a great day. Other than that excursion we didn't want to go anywhere and leave the best view of any place we've ever stayed!
Our first visit to this home was with the intention of visiting Kentucky Lake – Kentucky Lake was a major bonus. When we return next it won't be so much about the destination, as it will be to revisit this magnificent property and have a time like the wonderful one we just did!"
Jo, United States
"Perfect Home In The Perfect Location"
We love this place! It is a home away from home but without the everyday life activities and chaos. It's a place of peace and relaxation where we could reconnect. Each day we had our morning coffee on the deck and enjoyed the amazing sunrise.The house is clean, comfortable and family friendly with plenty of decent movies, reading material and games. There are two kitchens one on each level, they well stocked with all new appliances. The beds as well as the furniture are comfortable. The house is decorated so nicely (I may steal an idea or two). Tons of windows for you to enjoy the view.  We also enjoyed being on the lake so we could go down to the dock and fish whenever we wanted. The grounds are beautiful, and very well kept I so enjoyed walking our Lab on a daily basis Finally, the owners Pam & Paul are so friendly and gracious. I would love to come visit in Fall I bet the colors are amazing. We in all tremendously enjoyed our stay. Thanks Pam & Paul for a great vacation!"
Judi & Carl, River Grove Il
"Dog Lovers"
One of our dogs was diagnosed with brain cancer 3 months ago and given 3-4 months to live. We wanted to take him and his sister on a weekend getaway, but with his condition, we couldn't plan anything far in advance. Pam was sympathetic to our situation and eager to help us in any way she could. She responded quickly to our initial inquiry, made special accommodations for us to arrive in 5 days, and sent us links to all the nearest vets in case of an emergency. Thank you Pam!
Just because we're dog lovers doesn't mean we want to stay in a place that looks or smells like an animal shelter! This home was immaculate. There was no dust, no hairs, no stains, and no lingering dog aromas.
The expansive lake views are even better than pictured on the website. Whether you're upstairs or down, the views are unparalleled!
The weather did not cooperate during our stay. The good news is the home is stocked with tons of books and more games than you could play. The bad news is the weather ruined the dogs' plans of exploring, sniffing, meeting wildlife, going on walks, and being lulled to sleep on the deck by the soothing sounds of water and the warmth of the afternoon sun. (Come to think of it, except for sniffing, we had hoped to do all of those things too.) At least we weren't at home, where my husband and I often busy ourselves w/chores instead of spending quality time together as a family."
Julie L.
"Everything As Described About This Home Is True"
We enjoyed this home for a Monday thru Friday. It was so pretty with absolutely everything you could want in a lake home. We wanted for nothing except warm temps and sunshine and that can't be rented 🙂 The owners were gracious and accommodating and answered every question prior to our visit promptly. The home was comfortable and so beautifully decorated. With a spectacular view of the lake, a simply wonderful week which went by far too quickly."
Debbie W.
"A Magical Experience"
Our favorite pastimes are visiting new spots and revisiting our favorites. Our visit to this home has spoiled us for any place we'll stay in the future.
We read the description and were sold. This place is even more enchanting than anticipated – the photos don't convey just how wonderful it is. The genuine lake house feeling we were hoping for is exactly what we found here – down to earth, a very cozy and warm home, yet pristine and rich with fine points. The hosts clearly take what they do seriously and to the great benefit of their guests. The awareness of even the most subtle particulars delivers something rare.
Being closer to the water is impossible. We didn't expect sun and mild temps for a January visit, but we had them. Looking out the windows we saw Bald Eagles soaring over that blue water right in front of the house throughout the day. My favorite happening – I was on one of the deck's comfy chaises, soaking in the sun and being hypnotized by the ultimate view when a huge Bald Eagle landed in the branch of a tree about 35 feet from me – Amazing!! I got a couple of mind-blowing photos.
I could rave on about this wonderful place, but there are a few practical details to share – The trip into Murray is straightforward and not far. The Kroger is very nice. We were going to eat out one night, but once we got settled in we just couldn't leave our private bliss.
So, on the day we departed we were sad to go. Our consolation was immediately reserving a stay for the coming summer. We are looking forward to making good use of that extra kitchen and spending the days on the dock's sunny, swim platform with my sisters and their husbands!
It's a challenge to put into words the long list of attributes and perks here that make this 6 Stars! A spell has been cast on us by this MAGICAL lake home!!
The summer cannot arrive too soon!!"
P.B. , Chicago, IL,
"No Better Place On Kentucky Lake To Visit!!"
It's my first chance to sit down and write this review. Earlier we had visited the owner's stone cottage and had a really impressive time. My husband and his best buddy were obsessed with the fishing and we (the wives) enjoyed how great the place and the local sites are. We came back again to try this new home during a different season with different fishing conditions. We weren't disappointed! This home is just that, by the time we left it was as though we were leaving a new best friend. With all the dedication in the design and the special touches we immediately felt like we were HOME. The stained glass windows are wonderful – the one in the upstairs shower would only have been added by an owner who wanted to make a very special place. Just like the cottage, it was private with awing views (inside & out), there was everthing in every room we needed to relax and unwind. When on vacation for a week it's so great to have a quality washer & dryer on the proprerty – we don't have to pack as much. The kitchen was stocked better than my own, and I left with many new ideas. The guys fished very happily everyday – they brought home for dinner mostly delicious blue gill, some crappie, but less crappie than they had caught during our spring visit. We can't explain just how happy we all are to have found this new home away from home, and look forward to returning whenever possible!
Ken
"Best Family Celebration"
My daughter and her husband (and their dog) drove up from Louisiana and met us at this fabulous home for a pre-Christmas get together. The weather was a bit chilly but sunny and the location on the lake is fantastic. We watched eagles flying, even saw two fight over a fish (which fell into the water in the middle of their duel), lots of bird sightings including beautiful white pelicans, saw a nice herd of deer backed by the setting sun on the road to the house. It couldn't have been prettier. The house is so comfortable and cozy, has everything you could wish for. And the hosts are so thoughtful and do everything to make your stay a delight. We will be back!"
Tertia C.
"Perfect Home, Perfect Place, Perfect Hosts!"
I've stayed there twice and can certainly verify all how wonderful this place is. I want to visit again soon! Nearby Land Between the Lakes was the initial draw to this location. But the home is so comfortable, the view SO SPECTACULAR that on days when the weather doesn't invite outdoor exploration, the home, view and hospitality make every minute a fabulous experience. Bring or buy groceries, you won't want to "go out" to eat, it's just that beautiful!"
Kirk, Parkville, MO
"Absolutely Wonderful Stay!"
My husband, his parents, our dogs and I thoroughly enjoyed staying in this lovely and well-appointed home. We stay at vacation homes across the country and this is one of the nicest! The owners have thought of everything to make your stay welcoming and comfortable.
The home was very clean – the view was breathtaking (from both the first and second floors) – the stars at night were unforgettable – and the owners were very easy to communicate with and very friendly and hospitable! The home was very family friendly, and the kitchen was so well equipped and nice to cook in…….great appliances, etc! It's clear that much planning and personal work went into making this such a lovely home.
We look forward to staying again and will recommend this lovely rental to all.
PS: Hope to rent the boat next time 🙂
"Ideal For Families"
We are looking at our calendar to plan a return trip to this house we visited last summer. My sister had just moved to Nashville, rather than visit another city we wanted a peaceful family time together. We picked Kentucky Lake as the meeting place – It worked out great! We have small children, my sister's small dog, and our elderly Mom came, too. This house was ideal for all of our needs. Many things were special, but for us the highlight was the dock – to reach it we just walked along a very short distance of lawn, there is no hill or stairs – great for the kids & Mom. On the dock it was amazing, room to play, fish and relax, and a nice roof when we wanted a break from the sun on the swim deck. But the most impressive part was the view, we thought it couldn't get better than it is from the house, but it did. From the dock it was completely majestic. Aside from that, the owners thought of everything we might need, and with style. If you want a seamless, quality family gathering, this place is impossible to beat!"
Cyndy, Rick, Lindsey & Ryan
"Amazing Stay"
We had the pleasure of staying in this wonderful home over Christmas. It was absolutely amazing! The owners were welcoming and provided everything you could possibly need – including a beautifully decorated live Christmas tree. The home is clean, the property beautiful, and the view unbelievable. We had an eagle perched on a tree just outside the door. We had a wonderful time and look forward to visiting again in the near future. Thanks for the attention to detail and making ours a wonderfully amazing and, truly blessed, Christmas vacation."
Millington, Tn. 
"Great Vacation!!!"
Beautiful house inside and out, quality throughout from silverware, to light fixtures, to wall decor, to bedding, etc. Every corner had something to look at but not overly done. Selection of books and movies, if you find time between the fishing, swimming, and boating, was outstanding. Owners very hospitable, went the extra mile with a car repair for us. Flashlights in every room proved they thought out what a renter may need. Besides it being a great property to call home for a week, it's in a great location to many attractions!! I'm not one who likes to repeat vacations, but this one is back on the list! So much more to go explore!"
Teresa H.
"Beautiful View"
As usual, I am very late on this review because Chicago gets so busy, but better late than never!
I am so glad I remembered Kentucky Lake from my time in Carbondale. This was a last minute trip, and Pam did everything possible to make sure our vacation happened! The home was beyond beautiful! Every detail taken care of. We spent most of the time outside looking at the lake. And if inside, you still saw the lake ! We brought a portable sirius radio, only brought it outside every now and then because you just want to sit and listen to nature.
Saw an eagle and a few hawks right outside the house. View of the lake is outstanding. Plenty of trails to hike. Me and my dog went to one close to the house, and it was perfect! I hope to go to this home with another family so they can enjoy the fishing it has to offer in that area."
Happy Guest, Stickney, IL
"Thank You So Much!"
Just want to let you know how much we enjoyed our stay at your beautiful lake front home. Your Hospitality and all the features your home has to offer made it a great stay – it feels like home away from home. We hope to see you next year."
Bill, Indiana
"Awesome To Be Back Home!"
Winter weather's coming – Looking at my screen saver – It's a photo I took of the view from the deck during our last stay here. I am homesick! We've visited so many times I've lost count. More family joined us this visit – Now they know what we've been bragging about. We didn't bring our boat, so we rented the boat at the property. – Totally convenient! Beautiful conditions on the lake and the bass were biting. Every time we think there's no possible improvement to make here, but have to say we loved the new chaise chairs on the deck. We stayed at a very nice resort in FL last spring – they had the exact ones – thanks for always keeping it quality! Back to my screen saver – we'll be in touch soon!"
Ken
Free Wi – Fi
A great collection of books on both levels – hundreds by renowned authors, covering a variety of topics with classic titles appealing to all ages, many games, puzzles and poker.
There are great options for walks, biking and running. The property is only a short drive to Land Between the Lakes.
Books –  A great variety of subjects for all ages.
Games –  Several standard and different games
Satellite/Cable –  Direct TV with all movie & local channels and XM Radio.
Television –  42″ Flat screen
KENTUCKY LAKE VACATION RENTALS    270-978-0624
Discover all the Treasures of Land Between the Lakes National Recreation Area.
Just a brief 15 minute drive from the property to the main entrance.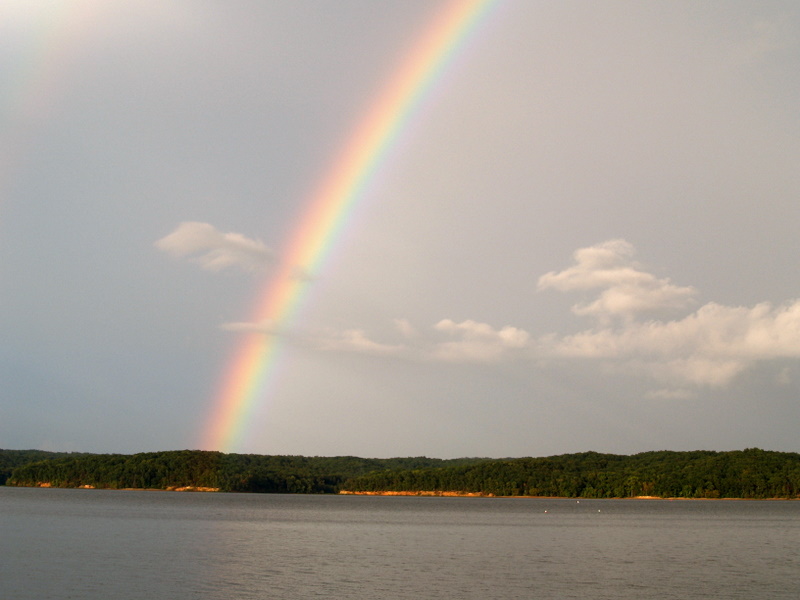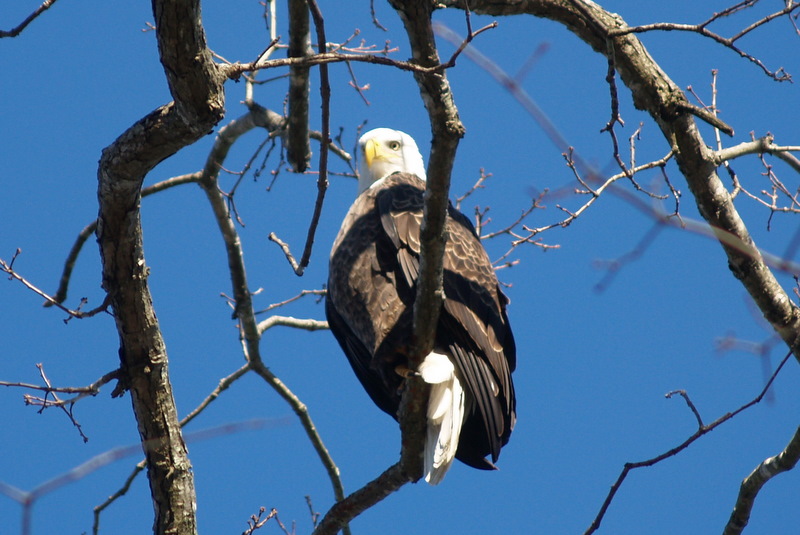 Even closer by water…only 5 minutes.
KENTUCKY LAKE VACATION RENTALS    270-978-0624