Sleeps 5 (max)    … pet friendly …

3 Bedrooms – Sleeps 5

2 Bathrooms

Full kitchen

Private Dock w/ On site Boat Rentals
Rates
(All prices are per night unless otherwise stated)
January:     Jan 1 – Jan 31  – 2 night min stay…  $170
February:   Feb 1 – Feb 28 – 2 night min stay…  $170
Early March (Spring Fishing)    Mar 1 – Mar 12 – 2 night min stay…  $175
Late March (Spring Fishing)    Mar 13 – Mar 31 – 3 night min stay…  $175
April (Spring Fishing)   Apr 1 – Apr 30 – 3 night min stay…  $180
May  May 1 – May 14 … 4 night min  $180
May 15 – May 26 …4 night min $185
.

NOTE : Sorry, only property rental boats are allowed on the premises.
Memorial Day Weekend:   May 26 – May 28  … $250
Early Summer Special:   May 29 – June 2 … $215
June:June 2 – June 15  4-5 night min stay…  $215
June  June 16 – June 29    Friday to Friday 7 night min stay … $239 
July 4th Holiday:   June 30 – July 7    Friday to Friday – 7 night min stay…   $239
Peak Summer:  July 7 – August 11   Friday to Friday – 7 night min stay…  $239
Late Summer:  August 11 – August 31    4-5 night min stay …   $215
Labor Day Weekend:    …  $250
September:   Sept 4 – Sept 30  …   $185
October: (Fall Fishing)   Oct 1 – Oct 31  …  $185
November:  All dates except Thanksgiving – 2 night min stay...   $185
Thanksgiving:.   -4 night min stay…  $210
December: 2 night min stay… $185
All dates except Christmas and New Years – .
Christmas: 4 night min  stay…    $210
New Years  3 night min             $210
Please refer to Rates and Availability for additional taxes and fees.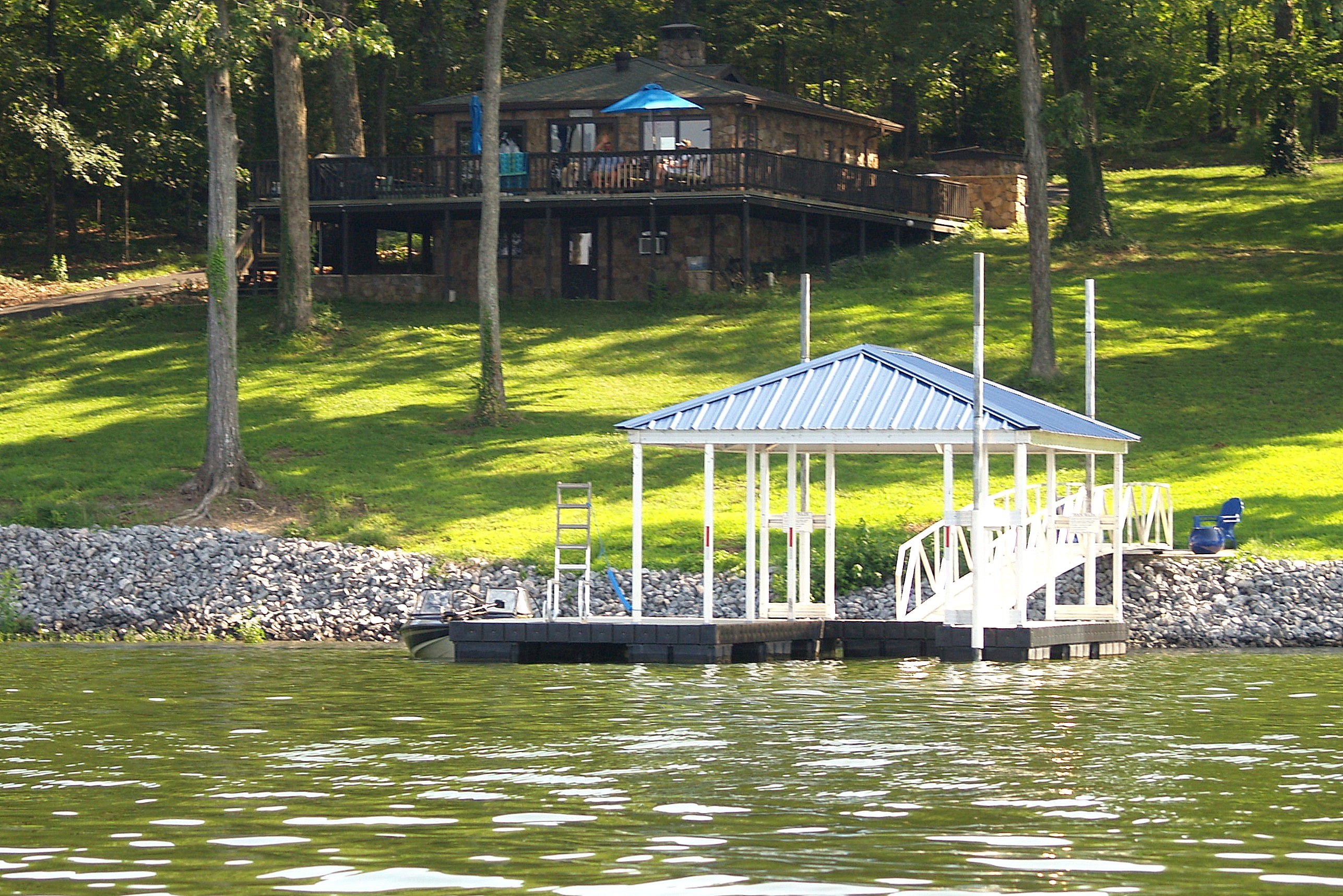 Featuring the Finest Properties and Rental Boats on Kentucky Lake, guests enjoy special pricing on all Fish and Ski Boats. Cruise the lake with whisper quiet Yamaha outboards, towing setups, live wells, swivel fishing seats, GPS fish finders and more. Our Entire Fleet is Perfect for Family Fun – Versatility ensures that the boats can be set up for the renters preference:  every accessory for fishing can be removed to make way for tubing or just cruising.
Please click BOAT RENTALS on menu for guest rates,  details and additional photos of our fleet.
All boats are delivered to your Private Covered Dock, only 100 ft. away.
KENTUCKY LAKE VACATION RENTALS    270-978-0624
 The Cottage…
The architect's plan for this refurbished, lovely stone cottage, positioned with truly the greatest view of the main Lake,  was to create the ultimate retreat for honeymoon couples or friends in search of prime boating and fishing.  The perfect base from which to explore Kentucky Lake has successfully been constructed.  The 680 square-foot lake front area of its deck offers spectacular sunrises without another structure in sight – only a calm unspoiled setting – the lake and nature.  This majestic environment seems complete as visitors experience the remarkable image of a Bald Eagle reflected on the water as it soars in to perch on the branch of a surrounding tree.
THE WRAP AROUND DECK TOTALS 1100 SQ. FEET and is the ideal place to discover the beauty and serenity of Kentucky Lake by the light of day or under a starry sky at any season of the year.  There is no more beautiful setting to begin or end your visit to the Lake.  Conveniently located 13 miles from Murray State University.
While the cottage's design maintains a rustic mood special attention has been paid to provide distinctive quality furnishings and unique amenities that ensure the guests' comfort and a restful visit.  The top floor of the cottage has a cathedral ceiling. The living space and dining area feature a grand stone fireplace and floor to ceiling windows that share the main deck's great views.  Two well appointed queen bedded rooms and a full bath are also upstairs.  Downstairs with a separate entrance is a quaint twin bedded room with a full bath, as well as a laundry facility.
ENHANCING AND MAINTAINING QUALITY is a happy necessity that keeps our customers returning.  Ensuring that every season be one of great memory making we recently installed a new custom boat dock adjacent to the cottage and added an on property boat rental.  A very thoughtful process of considering what features make for the best waterfront experience has brought about many conveniences with the addition of the deluxe dock:
First, There is the Access – Here there is no steep slope or long trek to the dock.  Being only one hundred feet away, step out the door and be on the dock in a minute or less.
Coverage and Quality are Redefined – Equipped with an attractive and highly functional hip roof,  superior protection from the elements is ensured.  Not only is the aluminum decking non-slip, but it is splinter free. The dock has the option of electricity for charging trolling motors and a fish cleaning table for your daily catch.
Then, there is the Relaxation & Recreation – If after a day out you return full of the sense that exploring and playing on the lake can be both fun and hard work,  here is the place to reflect on the day you have had and contemplate tomorrow's plans. Having a 12×28 swim platform complete with a retractable ladder makes this the spot to share a fun and rejuvenating break lounging,  sunbathing or swimming.
We cannot forget the Exceptional Fishing Possibilities – Many of the cottage's guests return to revisit the location right on our lakefront where they have had very rewarding days fishing for blue gill,  bass,  crappie and catfish.  We are confident that their future visits will leave them happily convinced and surprised that their past successes here have been surpassed.
THE PROPERTY BOAT RENTAL:  Several well-equipped boats are available to guests at special rates.  It is one more convenience,  and can add hours to vacation time on Kentucky Lake.  There is no drive to and from a marina to collect and return a boat. For a rental over multiple days how great it is to have the driving completely eliminated?  Imagine instead the pleasure of a sunrise breakfast ending seamlessly with a stroll across the lawn to board the boat that awaits you at your private dock. Effortlessly, straight from the comfort of your cottage a day out on the lake begins…
Sorry, only property rental boats are allowed on the premises.
While visitors may be satisfied to not leave the property during their stay, there are many great experiences to be found locally:
FISHING:    The fish are surely not hard to find, but for visitors with the goal of maximizing their fishing experience the owners have established relationships with the areas most knowledgeable guides.  We are delighted to introduce guests to any one of these specialists who have each made it his life's passion to master and uncover this lake's greatest features – impressive fishing opportunities and a wide array of wildlife.  They are at the disposal of the expert or the novice and promise anyone wishing to learn and have the mysteries of Kentucky Lake revealed a day that will long be remembered.
GOLF:   In addition to the satisfaction a day on the water offers,  just a 15 minute drive away is Miller Memorial Golf Course – considered to be one of the finest golf courses in west Kentucky's lakes region,  it presents many challenges for even the most seasoned golfer.
LAND BETWEEN THE LAKES:    Guests have a direct view of this pristine NATIONAL FOREST from the cottage itself.  It's just a 15 minute drive away.  It encompasses an area teaming with 170,000 acres of wildlife,  history,  and outdoor activity opportunities.  Surrounded by 300 miles of undeveloped shoreline,  LBL's  famous ELK and BISON PRAIRIE is a 700-acre restoration of Kentucky's native barrens. Visitor's are able to drive their vehicles thru the herds,  giving an up close and personal experience one won't soon forget.  TURKEY BAY, a one of a kind Off-Road Vehicle Area, has miles of trails, roads and mud pits for the serious or casual 4X4 enthusiast.  You can even drive your 4×4 along the shoreline of Kentucky Lake.
The Homeplace is an 1850's working farm where west Kentucky's history comes alive – Interpreters in period clothing demonstrate on a daily basis the chores and activities of another time.  There are special events and festivals for every season.  On another day one might return to explore the 200 miles of trails,  the Nature Station or the Golden Pond Planetarium & Observatory.   We look forward to your visit, Pam and Paul Guy.
KENTUCKY LAKE VACATION RENTALS    270-978-0624
Cottage
Free Wi Fi
Accommodation Type –  Kentucky Lake Vacation Rentals
Location –  Lakefront with Your Own Private Covered Dock
Meals –   Guests Provide Their Own Meals
Minimum Age Limit For Renters –  Primary guest must be at least 30 years of age.
Children Welcome –  A huge selection of books and games for children and adolescents.
Non Smoking Indoors
Pet Friendly –  Pets are accepted on a case by case basis with pre-approval of the owner.  When inquiring please indicate the breed and weight.  There is a pet fee.
Bedrooms…
3 Bedrooms, Sleeps 5 (max), Beds for 3-5
Bedroom 1 –  1 queen – Located Upstairs
Bedroom 2 – 1 queen – Located Upstairs.
Bedroom 3 –  1 twin/ single   Downstairs bedroom with its own Full Bathroom
Queen size Beds (2)  – 15″ deep Swedish foam pillow mattresses,  Twin  (1) 15″ deep Swedish foam pillow mattress The bedroom downstairs is small,  quaint,  has its own full bath  and a separate entrance – Ideal for teens and adults.
Bathrooms… 
2 Bathrooms
Bathroom 1 –  Toilet, shower – Full Bath, Large Shower
Bathroom 2  – Toilet, shower – Full Bath,  Large Shower  (Downstairs)
General…
Air Conditioning – Central Heat/AC
Clothes Dryer – Front Loading
Fireplace – Stone / Floor to ceiling.    Only artificial logs are to be used.
Hair Dryer –  Provided

Heating – Central

Internet –  Free Wi Fi
Iron & Board – Provided

Linens Provided – Egyptian Cotton Sheets
Living Room –  Equipped with floor-to-ceiling windows offering an amazing up close view of the lake.  Featuring a stone fireplace.
Parking –   Ample paved space for several vehicles
Towels Provided –  Plush Bath Towels
Washing Machine –  Front Loading
Kitchen…
Equipped with all new granite counter tops,  stainless appliances and cherry wood cabinets. Also provided are all general cleaning supplies.
Coffee Maker – Electric with filters

Cooking Utensils – A professional chef's line of cookware and utensils including a Bodum French Coffee Press,  as well as wine glasses and champagne flutes.
Dishes & Utensils
Dishwasher – Stainless steel
Ice Maker –   Automatic

Microwave
Stove/Oven –  Stainless Steel

Refrigerator – Stainless Steel  ( Full Size)
Toaster
Outside…
Balcony –  1100 square feet total with an unobstructed view of the main lake.
Boats –  Several clean, well-equipped boat rentals for every type of boater. Located on the property.
Deck/Patio –  Unbreakable, colorful dishes & glasses are provided as an option for outdoor dining.
Golf –  Award winning Miller Memorial Golf Course is a 12 minute drive.
Kayak/Canoe –  16ft. 2 man kayak available for rent Perfect cove to explore in…
Lawn/Garden – 4 acre property with beautiful shaded and grassy areas for your enjoyment.
Outdoor Grill – Stainless gas grill.  Propane provided.
KENTUCKY LAKE VACATION RENTALS    270-978-0624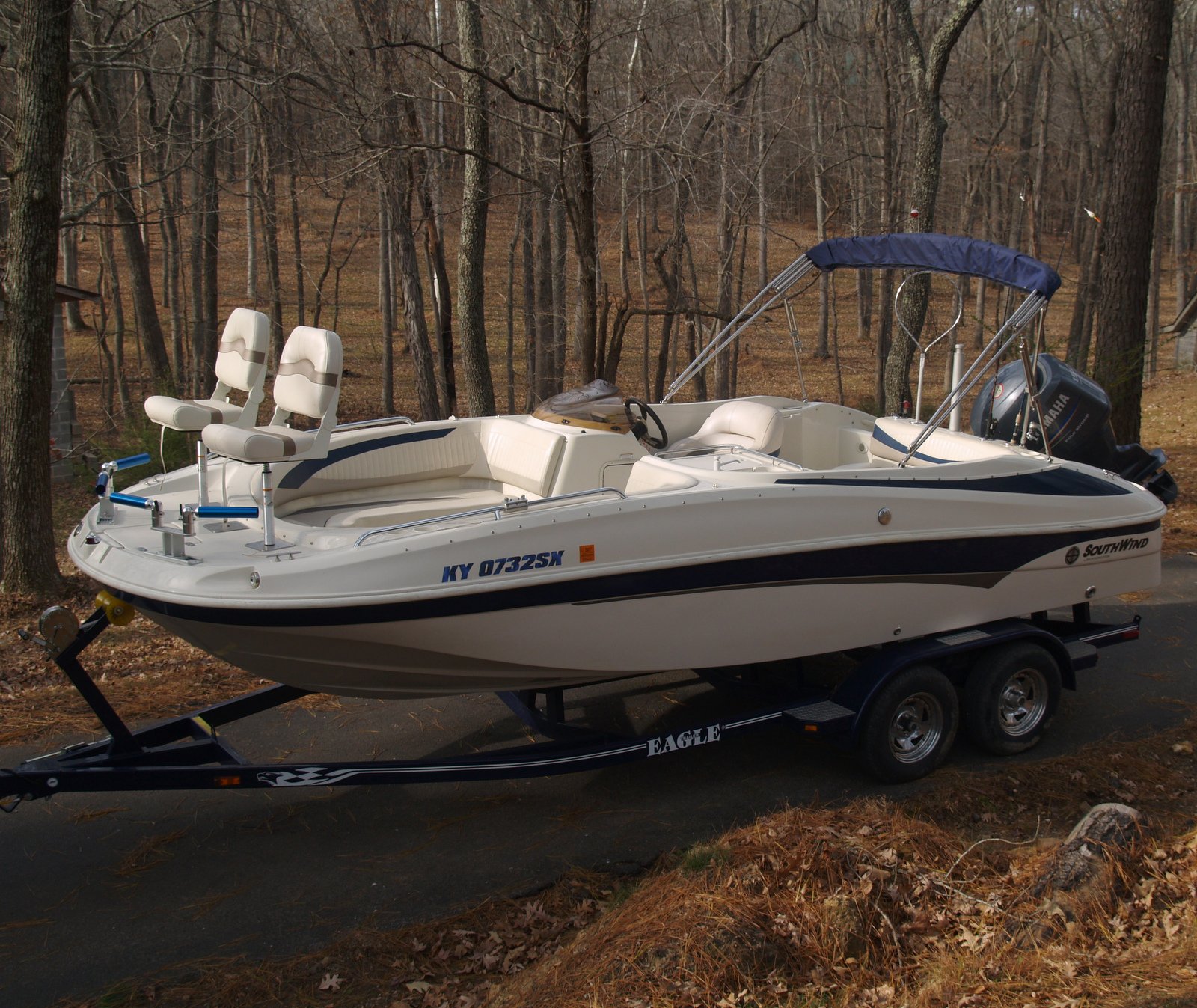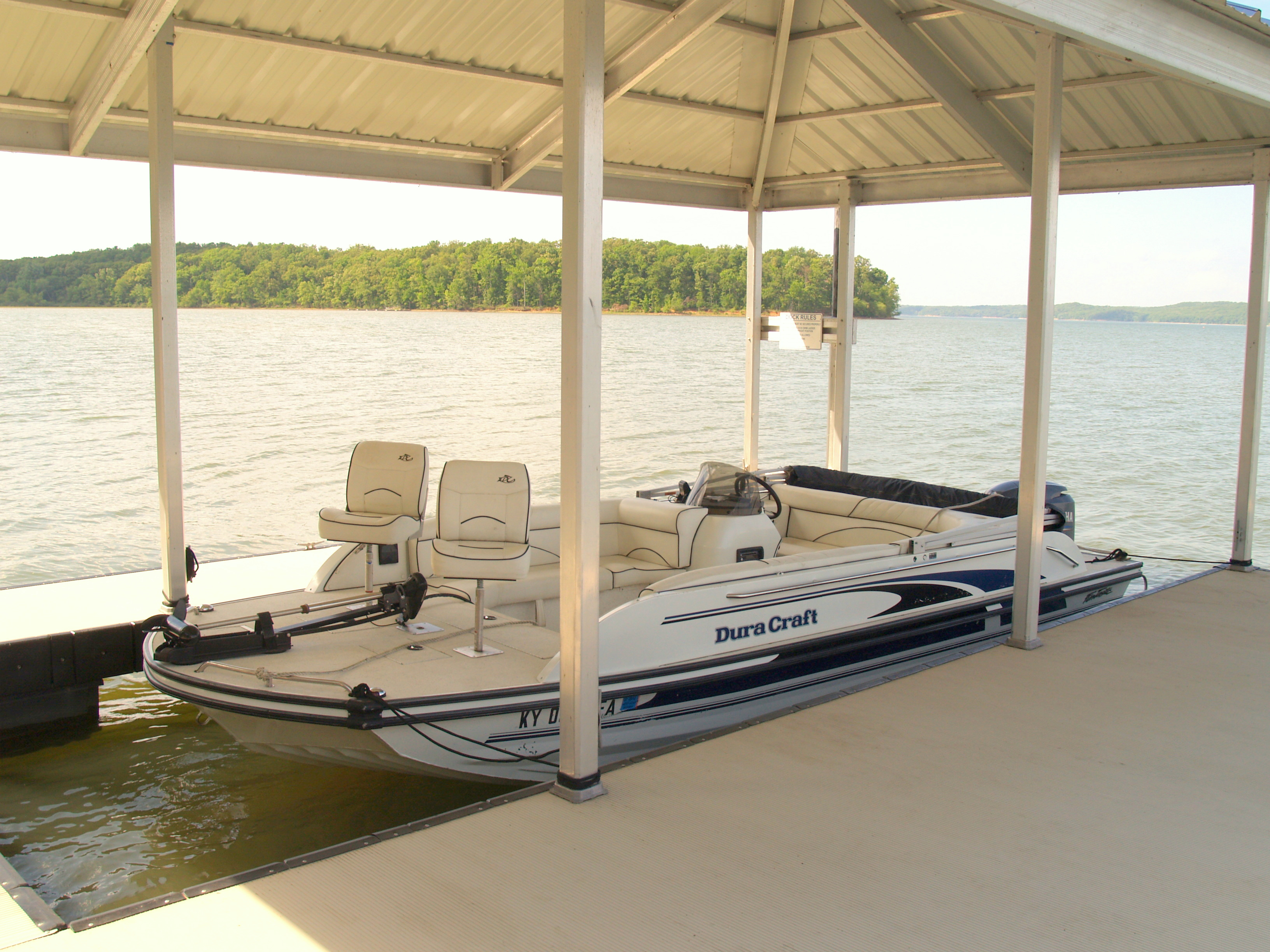 Launching a New Level of Adventure…
Our fuel-efficient rental boats are the finest on Kentucky Lake.  They are well maintained for  a trouble free day on the lake.  With comfortable seats,  Bimini tops for shade and the latest in Full Color GPS Mapping and Sonar,  being on the water has never been so affordable. Please click BOAT RENTALS on menu for special rates, details and additional photos of our fleet.
All boats are delivered to your Private Covered Dock, only 100 ft. away.
KENTUCKY LAKE VACATION RENTALS    270-978-0624
Free Wi Fi
A great collection of books on both levels – hundreds by renowned authors, covering a variety of topics with classic titles appealing to all ages, many games, puzzles and poker.
Italian ceramic tile floors throughout
There are great options for walks, biking and running.  The property is only a short drive to Land Between the Lakes.
Books   A great variety of subjects for all ages.
DVD Player   Collection of various themes for your viewing pleasure

Games   Several standard and rare games
Satellite/Cable   Direct TV with all movie & local channels and XM Radio.
Television   42″ Flat screen
KENTUCKY LAKE VACATION RENTALS    270-978-0624
  Antique Malls
Churches
Cinemas
Festivals
Fishing Tournaments
Health/Beauty Spa
Historic Ft. Donelson Civil War Site
Library
Live Theater
Marina
Murray State University
Museums
National Forest
Patti's 1800 Settlement
Restaurants
Water Parks
Winery Tours
KENTUCKY LAKE VACATION RENTALS   270-978-0624
Cinemas
Festivals
Health/Beauty Spa
Library
Live Theater
Marina
Museums
Restaurants
Water Parks
Winery Tours
 KENTUCKY LAKE VACATION RENTALS    270-978-0624
Discover all the Treasures of Land Between the Lakes National Recreation Area.
Just a brief 15 minute drive from the property to the main entrance.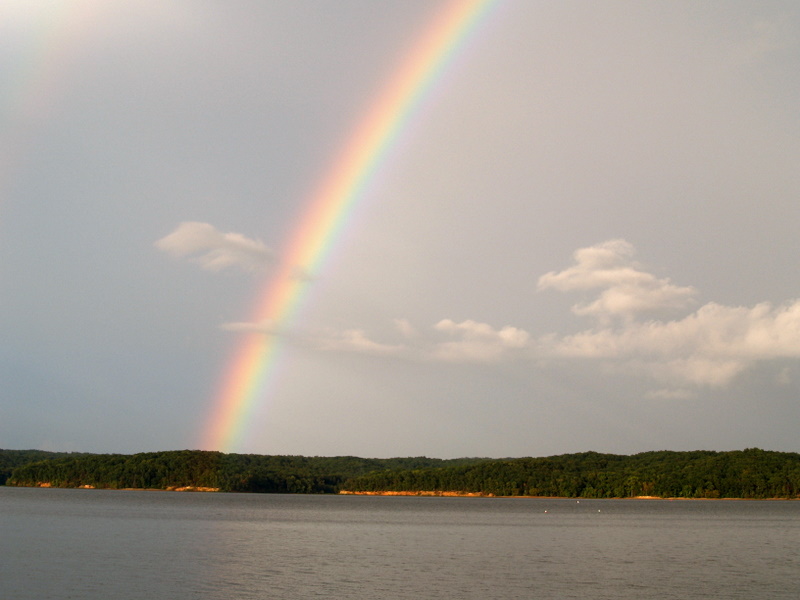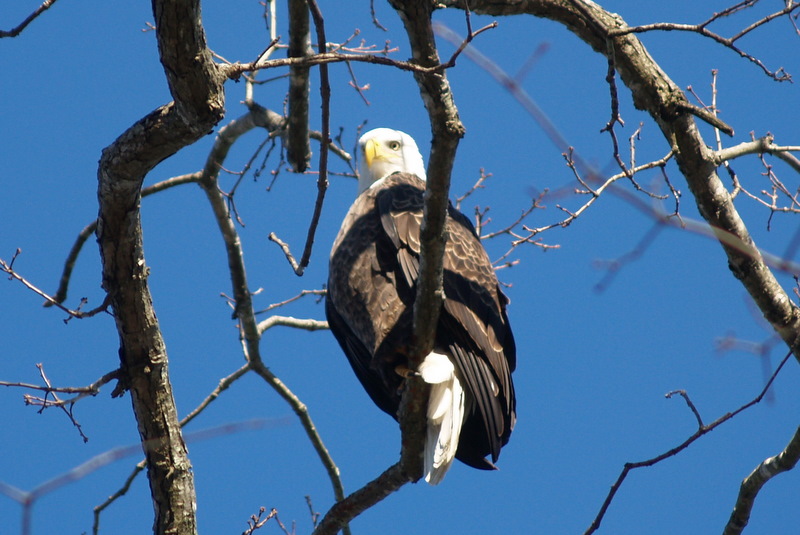 Even closer by water…only 5 minutes
KENTUCKY LAKE VACATION RENTALS    270-978-0624